Stage 13: Duck with turnips recipe (canard aux navets)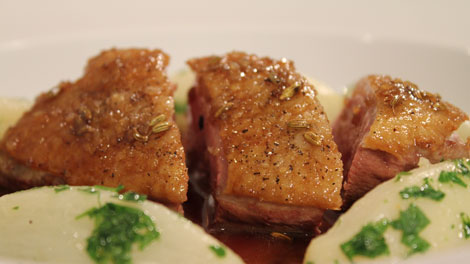 Stage 13: Pau – Lourdes

For the first time ever, Gabriel visits the market of Pau, one of the best in the south-west Pyrenees region. He finds some wonderful local smallgoods, including blood sausages. In the kitchen, he prepares a simple, delicious dish of duck breast with turnips.
Ingredients
2 turnips
½ cup water
20g butter
2 duck breast, fillets
1 tsp fennel seeds
Salt and freshly ground black pepper
1 shallot, finely chopped
10ml cognac
30ml veal glaze
30ml water
View conversion table
Preparation
Peel the turnips and cut each into 6 segments. Using a paring knife, trim the turnips into large olive shapes, the size of dates.

Place the turnips in a saucepan. Add ½ cup water and half the butter and cook on medium heat until the turnips are soft and the water has evaporated. By that time, the turnips will be glazed by the butter.

Meanwhile, heat a heavy frypan.

Season the skin of the duck fillets with fennel seeds and a little salt and pepper. Place the duck, skin-side down, in the hot pan and cook on medium heat for about 8 minutes. Turn the duck over and cook for a further 2 minutes. Transfer the duck fillets to warm plates and cover with foil.

Discard the duck fat from the pan. Stir the shallots into the pan and cook for 2 minutes. Add the cognac and flame it before adding the veal glaze and 30 ml water. Simmer for 1 minute, then stir in the remaining butter.

Reheat the turnips in the sauce.

Cut each duck fillet into 3 pieces and serve on warm plates with the turnips and sauce.

If you enjoyed this Stage 13: Duck with turnips recipe (canard aux navets) then browse more French recipes, meat recipes, pyrenees recipes, entertaining recipes and our most popular hainanese chicken rice recipe.
French Restaurants
Displaying 10 of 470 French Restaurants.
PLEASE NOTE: All submitted comments become the property of SBS. We reserve the right to edit and/or amend submitted comments. HTML tags other than paragraph, line break, bold or italics will be removed from your comment.
Featured Food & Recipes
Hot Tips
More
Woks
One of the essential cooking implements of Indonesia is the wok. You must remember to have it as hot as Indonesians do when they cook so you can achieve the wonderful flavour and aroma that comes from intense heat, often referred to as "the breath of the wok".
Glossary
More
Rice Flour
Rice flour can be used to thicken soups and stews, as well as providing an alternative to wheat flour in cakes and biscuits.