Stage 18: Iced chocolate and hazelnut cake recipe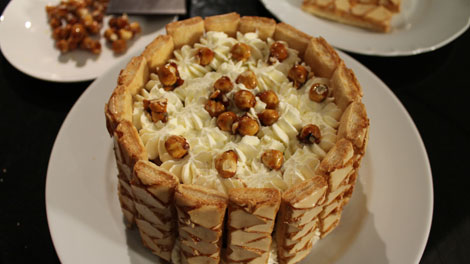 Stage 18: Pinerolo – Galibier-Serre-Chevalier

Gabriel visits the Italian town of Pinerolo and finds some wonderful local specialities. He tastes some delicious ice-cream and visits a gourmet take-away shop. In the kitchen, Gabriel makes a rich chocolate ice-cream and hazelnut cake.

You need an ice-cream maker to prepare this dessert.
Ingredients
5 egg yolks
200g caster sugar
2 cups milk, heated
2 tsp bitter cocoa
100g dark chocolate, cut into small pieces
1 ½ cups whipped cream
2 tbsp water
3 drops red wine vinegar
100g roasted hazelnuts
16 Italian biscuits (eg sfoliatine or savoiardi)
View conversion table
Preparation
Beat the egg yolks with 150g of the caster sugar for about 5 minutes until light and pale.

Stir in the hot milk, then transfer to a pan and cook on medium heat without boiling, stirring with a wooden spoon until the custard lightly coats the spoon. Transfer the preparation to a bowl and stir in the cocoa powder and chocolate pieces. Allow to cool.

When cold, fold in 1 cup of the whipped cream, then churn the preparation in an ice-cream maker.

While the ice-cream is churning, place 50g caster sugar, 2 tbsp water and the red wine vinegar in a small saucepan. Bring to the boil and cook until it caramelises. Stir in the hazelnuts, stirring until the nuts are well coated. Transfer the hazelnuts to a tray lined with baking paper. After 2 minutes or so, crush about half of the hazelnuts and add the crushed nuts to the churning ice-cream.

Transfer the firm ice-cream to a mould, cover, and place in the freezer for a few hours.

Dip the mould in warm water and turn out onto a cold platter.

Pipe a little of the remaining whipped cream around the sides of the ice-cream and attach the biscuits around the sides. Decorate the top with the remaining ice-cream and the whole caramelised hazelnuts.

If you enjoyed this Stage 18: Iced chocolate and hazelnut cake recipe then browse more French recipes, chocolate recipes and our most popular hainanese chicken rice recipe.
French Restaurants
Displaying 10 of 470 French Restaurants.
PLEASE NOTE: All submitted comments become the property of SBS. We reserve the right to edit and/or amend submitted comments. HTML tags other than paragraph, line break, bold or italics will be removed from your comment.
Featured Food & Recipes
Hot Tips
More
Re-hydrating dried mushrooms
Dried mushrooms, such as porcini, are a great store cupboard back up. Soak in boiling water for 30 minutes to revive them. Strain the soaking liquid and add to the dish for extra flavour.
Glossary
More
Molinillo
A wooden implement used to froth hot chocolate. It is rolled between the palms and is acts in a similar way to a whisk.