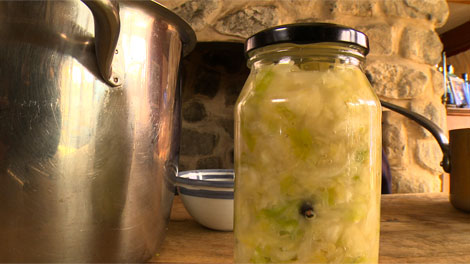 Cuisine:

Modern Australian

Prep Time: 30 min(s)
Ingredients
1 large head white cabbage
2 tbsp salt
View conversion table
Preparation
Remove the outer leaves and core of the cabbage. Slice into fine strips approximately 1cm x 5cm long. Place in a large bowl.

Sprinkle cabbage with the salt. Use your hands to mix until the cabbage starts to break down and liquid forms in the bowl. This may take up to 20 minutes. Stop when there is sufficient liquid to cover the cabbage when you press down on it.

Place the cabbage in a non-reactive container (eg stainless steel, plastic or glass – not aluminium). Weigh the cabbage down with a plate on top.

Leave for 4 days. Each evening, remove the weight and plate, and use the shaft of a spoon to plunge holes into the cabbage. Leave the weight off overnight. In the morning, place the plate and weight back on the cabbage. Leave the container in a cool place.

Spoon the cabbage into sterilised jars. Top with the juice to cover. Seal immediately.

Pickled cabbage must be stored in the fridge for up to 1 month. Eat within 1 week of opening.

If you enjoyed this Pickled cabbage recipe then browse more Modern Australian recipes, vegetarian recipes, prepare ingredients in advance recipes and our most popular hainanese chicken rice recipe.
Modern Australian Restaurants
Displaying 10 of 601 Modern Australian Restaurants.
PLEASE NOTE: All submitted comments become the property of SBS. We reserve the right to edit and/or amend submitted comments. HTML tags other than paragraph, line break, bold or italics will be removed from your comment.
Featured Food & Recipes
Hot Tips
More
Couscous
Always fluff couscous with a fork, rather than a spoon, as this will keep the grains light and fluffy rather than stodgy.
Glossary
More
Soy sauce
A condiment made from fermented soya beans and salt which forms a basic ingredient in both Japanese and Chinese cooking.