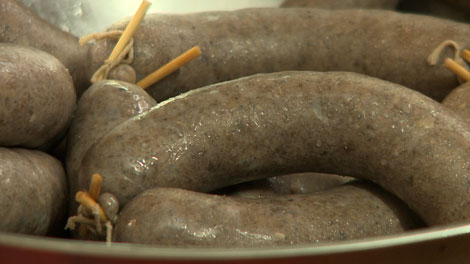 Ingredients
2 pig's heads, scalded, not skinned
1kg meat off-cuts (fist sized pieces) and a chunk of shoulder fat
2 pork livers, pork internal portions
4 lungs, cut into 5cm pieces
2 hearts, cut into 5cm pieces
2 tongues, cut into 5cm pieces
2kg bread rolls, cut into small pieces
20g salt
10g allspice
15g ginger
15g marjoram
10 garlic cloves, crushed
Pork intestinal casings, rinsed, cleaned
Skewers
500g lard, for frying
View conversion table
Preparation
In a large pot, add the pigs' heads, off-cuts and shoulder fat. Cover with water and simmer for 2 hours.

In the same pot, add half the pork livers, the lungs, hearts and tongue. Boil for a further 15 minutes, stirring constantly.

Finely chop the remaining liver. Place in a large bowl. Shred the cooked meat, liver, lung, heart and tongue. Add to the chopped liver and mix well.

Soak the bread in the pork broth and add to the chopped liver mixture.

Add the salt, allspice, ginger, marjoram and garlic. Mix well. Add more of the pork broth, if necessary.

Attach the pork intestinal casings to a sausage machine. Fill with the mixture, cutting each sausage at 20cm and tying off both ends with a small wooden skewer.

Place the sausages into the pork broth heated to 90°C. Cook for a few minutes or until the sausages float to the surface. Remove and hang to dry. Refrigerate for up to 5 days, or freeze for up to 1 month.

To serve, heat the lard in a deep frypan. Add the sausages and fry all over until cooked.

If you enjoyed this Jitrnice recipe then browse more meat recipes, prepare ingredients in advance recipes and our most popular hainanese chicken rice recipe.
Restaurants
Displaying of Restaurants.
| | | | |
| --- | --- | --- | --- |
| | Restaurant | Book Online | Suburb |
PLEASE NOTE: All submitted comments become the property of SBS. We reserve the right to edit and/or amend submitted comments. HTML tags other than paragraph, line break, bold or italics will be removed from your comment.
Featured Food & Recipes
Hot Tips
More
Splitting a Balmain bug
To remove meat from bugs, split the shell lengthwise. With a sharp knife or scissors, starting at the tail end, cut straight down to the middle of the head. Split open, remove vein and rinse lightly if necessary.
Glossary
More
Urad Dhal
An Indian lentil flour - one of many kinds of dhal.