Crayfish sashimi washed in saki recipe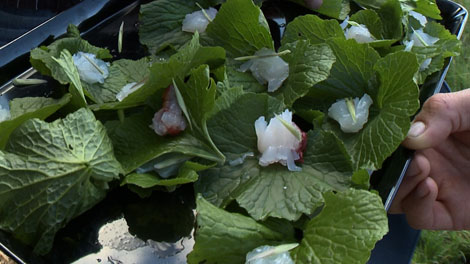 Ingredients
1 crayfish
1 cup saki
Ice
1 cup water
Fresh wasabi root
Soy sauce, to serve
View conversion table
Preparation
Remove the crayfish meat from the shell and slice into bite-size pieces.

Add the sake to a bowl of ice, and top with water. Place the crayfish in a sieve, lower into the ice bath and stir. Leave for 15 minutes.

Remove the crayfish from the ice bath. Drain.

Serve with freshly grated wasabi and soy sauce.



Tip: Grate the wasabi from the leaf end of the root to obtain better flavour.



If you enjoyed this Crayfish sashimi washed in saki recipe then browse more Japanese recipes, seafood recipes, quick recipes and our most popular hainanese chicken rice recipe.
Japanese Restaurants
Displaying 10 of 678 Japanese Restaurants.
PLEASE NOTE: All submitted comments become the property of SBS. We reserve the right to edit and/or amend submitted comments. HTML tags other than paragraph, line break, bold or italics will be removed from your comment.
Featured Food & Recipes
Hot Tips
More
Condiments
Many Filipino dishes are accompanied by a selection of sawsawan, dipping sauces or condiments. Common condiments include fish sauce or soy sauce mixed with kalamansi juice, or vinegar mixed with crushed garlic or chillies.
Glossary
More
Gazpacho
An uncooked puree of marinated salad vegetables, served cold. Spanish in origin.