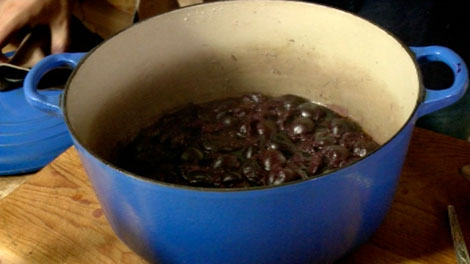 Cuisine:

Modern Australian
Ingredients
2 tbsp olive oil
A child's thumb of ginger, grated
2 cloves of garlic, grated
1 stick of cinnamon
3 cloves
1-2 whole star anise
500g fresh cherries, stalks removed, pitted
Pinch of five spice
Splash of cider vinegar
Salt, to taste
View conversion table
Preparation
Heat the oil in a heavy-based saucepan over medium heat. Add the ginger and garlic, and fry, stirring occasionally.

Place the cinnamon, cloves and star anise on a piece of muslin. Tie up into a bundle. Add the cherries and spice bag to the saucepan. Add the five spice and cider vinegar. Add a little water to moisten the cooking pot. Simmer the sauce for 40 minutes. Fifteen minutes into cooking, remove the spice bag.

Using a stick blender, blend the mixture. Season to taste with salt. Store in the fridge.

If you enjoyed this Cherry sauce recipe then browse more Modern Australian recipes, sauce and dressing recipes, fruit recipes and our most popular hainanese chicken rice recipe.
Modern Australian Restaurants
Displaying 10 of 601 Modern Australian Restaurants.
PLEASE NOTE: All submitted comments become the property of SBS. We reserve the right to edit and/or amend submitted comments. HTML tags other than paragraph, line break, bold or italics will be removed from your comment.
Featured Food & Recipes
Hot Tips
More
Tenderising meat
If you do not have a tenderising meat hammer, try bashing your schnitzels with a rolling pin. Wrapping the pin in glad wrap makes it easy to clean.
Glossary
More
Orange Blossom Water
An aromatic essence used in Lebanese cooking, particularly for sweets and desserts and sold in any Middle Eastern grocery store.