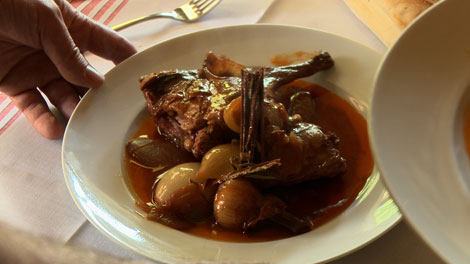 Ingredients
2 whole rabbits, gutted, dressed
1 cup olive oil
Knob of butter
Fresh oregano
Salt and pepper
6 cloves garlic, chopped
8 small brown onions, peeled, halved
½ tsp orange zest
4-5 whole cloves
2 cinnamon sticks
4 baby bay leaves
1 small can of tomato paste
2/3 bottle of red wine
Ground cinnamon
Flour, optional
Ground cumin, optional
View conversion table
Preparation
Chop each rabbit into 6 large pieces.

Heat the olive oil in deep-sided, heavy-based pot. Add the butter and oregano. Season well with salt and pepper.

Add the rabbit pieces and brown all over. (Dust the rabbit with flour before browning, if desired.) Add the garlic and cook for 2 minutes. Remove the rabbit when brown.

Add the onion to the pot and fry, stirring occasionally, in the pan juices. Add the orange zest, cloves and cinnamon sticks (plus a bit of cumin too if you want). Add the baby bay leaves and stir. Add the tomato paste and red wine. Season with freshly ground black pepper. Cook for about 5 minutes.

Return the rabbit to the pan, and sprinkle over the ground cinnamon. Cover the rabbit with water. Cover and bake in oven for about 2 hours at 160°C.

Drink remaining red wine, sing opera, and serve at leisure with bread and more red!

If you enjoyed this Rabbit stifado recipe then browse more Greek recipes, meat recipes, baking recipes and our most popular hainanese chicken rice recipe.
Greek Restaurants
Displaying 10 of 236 Greek Restaurants.
Comments (9)
Previous
Page 1
|
2
Next
PLEASE NOTE: All submitted comments become the property of SBS. We reserve the right to edit and/or amend submitted comments. HTML tags other than paragraph, line break, bold or italics will be removed from your comment.
Featured Food & Recipes
Hot Tips
More
Fruit and veg
Use fruit and vegetables that are in season. They will look better, taste better and the prices are lower.
Glossary
More
Urad Dhal
An Indian lentil flour - one of many kinds of dhal.