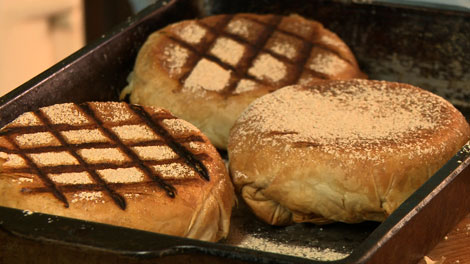 Ingredients
75ml olive oil
4 squab, cut into quarters
1 onion, finely chopped
2 garlic cloves, finely chopped
1/2 thumb of ginger, finely chopped
1 small red chilli, deseeded, finely chopped
12 saffron threads, dry roasted
1/2 tsp ground ginger
1/2 tsp ground cinnamon
1/4 tsp ground cumin
4 tbsp medium-dry sherry
600ml chicken stock
4 eggs
15g flat-leaf parsley
20g coriander leaves, chopped
75g flaked almonds
3 tbsp vegetable oil
Filo pastry sheets, cut in half lengthways (5 sheets per pie)
150g clarified butter
Topping
100g icing sugar
1 tbsp ground cinnamon
View conversion table
Preparation
Heat the olive oil in a large pot over medium heat. Add the squab and sautée until golden brown.

Add the onion, garlic, ginger, chilli, saffron, and the ground ginger, cinnamon and cumin. If ingredients aren't coated, add a little more oil.

Add the sherry and stock. Increase heat to high and bring to boil. Reduce heat and cover with a cartouche. Simmer for 40-45 minutes or until the squab is tender.

Leave the squab to cool down in liquid. Remove the squab pieces. Remove the meat from birds and discard the bones.

Bring poaching liquid to the boil and reduce by half, skimming off any impurities from the surface.

Meanwhile, whisk the eggs in a bowl. When the liquid is reduced, set aside to cool slightly. Gradually add this to the eggs, whisking constantly. The mixture should resemble a custard.

Stir in the parsley and coriander. Season to taste with salt and pepper. Set aside to cool.

Once cool, combine the meat and egg mixture. Refrigerate until ready to use.

Fry the almond flakes in vegetable oil until brown.

To assemble the pies, grease the bottom of a pan with the clarified butter. Layer the filo sheets and butter. Place the almond on the bottom of the pie, then spoon in the mixture. Carefully fold the filo over the filling to seal. (Don't worry about how it looks as this will be the base.)

Preheat oven to 180°C.

Bake the pies in pre-heated oven for 15-25 minutes or until the pastry is golden brown and crisp. Turn the pies out onto a chopping board. Wipe off excess butter. Sift over the icing sugar and cinnamon mixture. Brand with a metal skewer. Serve immediately.

If you enjoyed this Pigeon pie recipe then browse more French recipes, pizza, pie and tart recipes, baking recipes and our most popular hainanese chicken rice recipe.
French Restaurants
Displaying 10 of 470 French Restaurants.
PLEASE NOTE: All submitted comments become the property of SBS. We reserve the right to edit and/or amend submitted comments. HTML tags other than paragraph, line break, bold or italics will be removed from your comment.
Featured Food & Recipes
Hot Tips
More
Hamburgers
Be careful not to over-handle hamburger patties when you are moulding them. The more you touch them the more compact the meat will become. This will result in a tough, dense hamburger.
Glossary
More
Dragon Fruit
Dragon fruit (thanh long tuoi) comes in two varieties - one with bright red flesh and the other white, both have tiny black seeds. Although it can be bland in flavour it makes a striking addition to a fruit platter.