Breadfruit curry recipe
Created by
Peter Kuruvita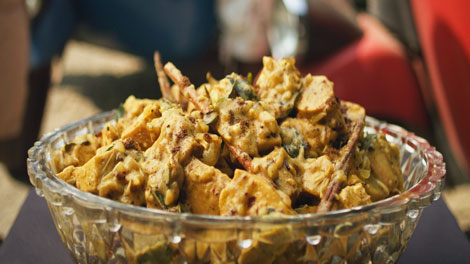 Ingredients
1 tsp ground coriander
1 tsp ground cumin
1 tsp vegetable curry powder
1 breadfruit, about 500 g (1lb 2 oz), peeled and cut into 3cm pieces
2 small green chillies, halved lengthways
100g onion, finely chopped
1 sprig curry leaves, leaves picked
½ tsp ground turmeric
½ tsp freshly ground black pepper
3cm (1 ¼ in) piece of cinnamon stick
500ml (10 ½ fl oz) coconut milk
100ml (3 ½ fl oz) coconut cream
Pinch of roasted dark curry powder
Pandan leaf
White mustard seeds, finely ground
3 cloves of garlic
Salt
For tempering
100ml vegetable oil
1 tsp mustard seeds
1 sprig curry leaves
½ red onion
View conversion table
Preparation
Place the coriander, cumin and vegetable curry powder in a small heavy-based frying pan and dry roast over low heat until dark brown.

Place the roasted spices and all the ingredients except the coconut cream and roasted dark curry powder in a heavy-based saucepan and simmer for 12 minutes or until the breadfruit is tender.

Add the tempered spices and stir to combine.

Stirring continuously, add the coconut cream and cook for another 4 minutes or until just below the boil. (Do not allow it to boil.) The sauce should be thick and the breadfruit soft and tender. Season to taste with salt, sprinkle with the roast curry powder and serve. Do not stir in the roasted curry powder.

If you enjoyed this Breadfruit curry recipe then browse more Sri Lankan recipes, curry recipes, entertaining recipes and our most popular hainanese chicken rice recipe.
Sri Lankan Restaurants
Displaying 10 of 34 Sri Lankan Restaurants.
PLEASE NOTE: All submitted comments become the property of SBS. We reserve the right to edit and/or amend submitted comments. HTML tags other than paragraph, line break, bold or italics will be removed from your comment.
Featured Food & Recipes
Hot Tips
More
Best mashed potato
For the perfect mash boil or steam floury potatoes until tender. Drain and cover with a clean tea towel to dry out. Meanwhile warm cream or milk and butter gently in a small saucepan. Peel away potato skin and press through a potato mill into a clean pot. Beat in milk mixture.
Glossary
More
Crouton
A small cube of bread fried with herbs and spices, then drained and cooled used as a garniture for soups and salads.