King's chicken curry recipe
Created by
Peter Kuruvita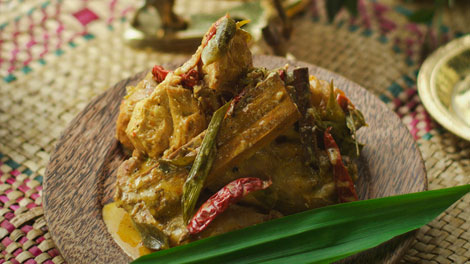 Ingredients
1 large chicken (or fowl), cut into 5 pieces
100g Bombay onions, sliced
4 cloves garlic
2 pieces pandan leaf, roughly torn into pieces
2 red chillies, chopped
4 green chillies, chopped
1 sprig of curry leaves
1 pinch of ground mustard
10 black peppercorns
1 knob fresh turmeric
½ tsp mustard seeds
2 tbsp oil
1 small piece of sandalwood
2 tbsp white vinegar
6 cloves
4 cardamom pods, crushed
½ tsp dark roasted curry powder
500ml coconut cream
Dried red chillis, to serve
Pandan leaf, extra, to serve
View conversion table
Preparation
Place the chicken, onion, garlic, pandan, chillies and curry leaves in a large pot. Toss to combine. Add the ground mustard and pepper, and season with salt. Massage the mixture into the chicken. Set aside to marinate.

Meanwhile, make the turmeric paste. In a mortar and pestle, crush the turmeric with the mustard seeds to form a paste. Set aside.

Heat the oil in a pot. Remove the chicken pieces from the marinade, reserving the spices. Once the oil is hot, place the chicken in the pot, skin side down. Cook until the skin is crisp.

Meanwhile, heat some more oil in a separate pot. Add the reserved spice marinade and sandalwood and fry until fragrant.

Turn the chicken to cook the other side. Add the vinegar and stir to combine. Leave to cook.

Add the cloves and the cardamom pods to the onion mixture and continue to fry.

Add the turmeric paste, black pepper, salt and the curry powder. Then add the chicken.

Cover the chicken with water and simmer over low heat for 45-60 minutes. (Check the pot regularly to ensure the water level doesn't drop too much.)

When the chicken is tender, add the coconut cream and bring to the boil. When boiling, immediately remove from heat.

To serve, arrange the chicken on a serving plate. Garnish with the dried red chillis and the pandan leaf.

If you enjoyed this King's chicken curry recipe then browse more Sri Lankan recipes, curry recipes, meat recipes, slow cooking recipes and our most popular hainanese chicken rice recipe.
Sri Lankan Restaurants
Displaying 10 of 34 Sri Lankan Restaurants.
PLEASE NOTE: All submitted comments become the property of SBS. We reserve the right to edit and/or amend submitted comments. HTML tags other than paragraph, line break, bold or italics will be removed from your comment.
Featured Food & Recipes
Hot Tips
More
Pebre
The way the onions are prepared for the Pebre is a revelation and crucial for the right taste and texture. To finely chopped onion, mix through raw sugar and hot water then allow it to stand to mellow the acidity. Rinse and mix through salt in the same way.
Glossary
More
Kirsch
From the German word for "cherry", a clear cherry schnapps.