Ambul thial recipe
Created by
Peter Kuruvita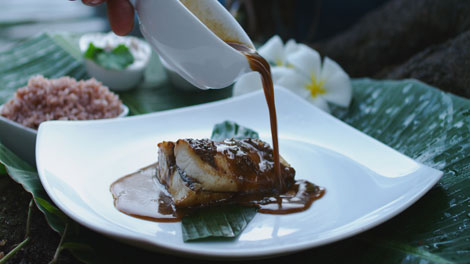 Ingredients
Ambul Thial
1kg of black fish
8cardamom pods
1/2 table spoon coriander
1/2 table spooncumin
1 table spoon roasted curry powder
1 teaspoonsalt
2 tablespoons cracked black pepper
1 stick of cinnamon
3 pieces of goroka
1 large onion diced chopped fine
2 green chillies
2 cloves garlic
1 sprig curry leaves
¼ tsp fenugreek seeds
1 tbsp chilli flakes
1 slice of ginger
1 tsp of black pepper corns
water to cover the fish
juice of lime
View conversion table
Preparation
Grind the cardamom pods, coriander, cumin, curry powder, salt, pepper, cinnamon chillies, garlic, chilli flakes, ginger, black pepper corns and goroka with a little water onto a grinding stone and make a paste. Set aside.

Wash and cut the fish into 4-6 pieces through the bone.

Place all the remaining ingredients in an earthenware chatty with 250 ml of water and mix until the paste has dissolved.

Mix in the fish and then cook over a coal fire, covered, until the water has evaporated.

If you enjoyed this Ambul thial recipe then browse more Sri Lankan recipes, curry recipes, seafood recipes, prepare ingredients in advance recipes and our most popular hainanese chicken rice recipe.
Sri Lankan Restaurants
Displaying 10 of 34 Sri Lankan Restaurants.
PLEASE NOTE: All submitted comments become the property of SBS. We reserve the right to edit and/or amend submitted comments. HTML tags other than paragraph, line break, bold or italics will be removed from your comment.
Featured Food & Recipes
Hot Tips
More
Mate
Make it strong. The second cup is always better.
Glossary
More
Lentil
A brown or yellow flat legume about the size of a pea used for soups, stews, and garnishes.