Cornet of black pepper beef recipe
Created by
Peter Kuruvita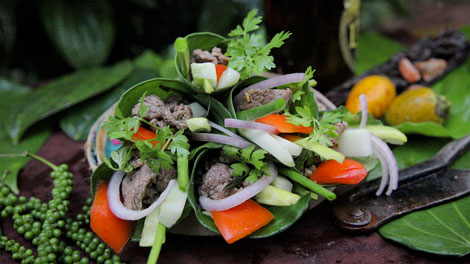 Ingredients
250g beef fillet or trimmed sirloin, sliced thinly against the grain
3 kochi chilli, finely sliced
Juice of 1 lime
50g black peppercorns, coarsely ground
½ tsp salt
Betel leaves
1 tsp green peppercorns
100ml vegetable oil
3 cloves garlic
1 sprig curry leaves
½ onion, thinly sliced
Garnish
2 tomato, deseeded, quartered
1 capsicum pepper, deseeded, sliced
1 cucumber, peeled, deseeded, cut into thin batons
½ onion, sliced
½ bunch coriander
2 green shallot, chopped into strips
View conversion table
Preparation
Place the beef, kochi chilli and lime juice in a bowl. Toss to coat the beef. Add the pepper and salt, and toss again. Set aside to marinate for 5 minutes.

Meanwhile, prepare the betel leaf. Form the leaf into a cone shape and secure with a toothpick. Repeat with remaining leaves.

Add the green peppercorns to the beef and stir to combine.

Heat the oil in a wok over high heat. When the oil is very hot, add the garlic, curry leaves and onion.

Once the garlic has browned, add the beef and stir-fry, stir constantly, ensuring the heat of the wok doesn't drop.

Remove the beef from the wok after a few minutes, or once it has browned.

To serve, place a small portion of the beef in the betel leaf cone. Top with the tomato, capsicum, pepper, cucumber, onion, coriander and green shallots.

If you enjoyed this Cornet of black pepper beef recipe then browse more Sri Lankan recipes, meat recipes, healthy recipes and our most popular hainanese chicken rice recipe.
Sri Lankan Restaurants
Displaying 10 of 34 Sri Lankan Restaurants.
PLEASE NOTE: All submitted comments become the property of SBS. We reserve the right to edit and/or amend submitted comments. HTML tags other than paragraph, line break, bold or italics will be removed from your comment.
Featured Food & Recipes
Hot Tips
More
Washing rice
Rinsing long-grain white rice before cooking removes excess starch, thus helping the rice cook more evenly and be less sticky. Some specialty rice, such as basmati, is always rinsed and soaked before cooking to obtain separate, perfectly cooked grains. However, other rice, such as Arborio, prized for its starchiness in risotto, is never rinsed.
Glossary
More
Farfalle
Pasta shaped like bow ties or butterflies.