Crisp herring with a hot salad recipe
Created by
Peter Kuruvita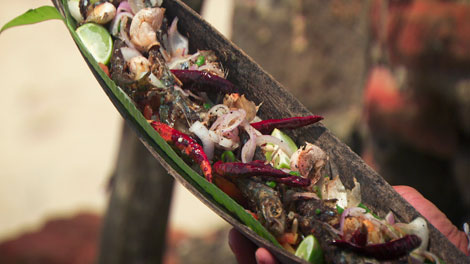 Ingredients
10 herrings guts removed and scaled
1 tbsp roasted curry powder
Salt
2 tsp black pepper
1 cup flour
juice of 1 lime
2 lt oil
1 head garlic, crushed with the skin on
10 dry red whole chillies
Salad
1 large spanish onions, peeled, finely sliced
3 green chilli, finely chopped
4 ripe tomato, sliced
1 medium cucumber, sliced
2 tsp maldive fish
Juice of 1 lime
Salt and pepper
View conversion table
Preparation
Place the cleaned herrings in a bowl with the curry powder, salt, pepper and flour. Toss to coat the fish in the flour mixture. Add the lime juice and toss again.

Combine all the salad ingredients in a bowl and set aside until ready to serve.

Heat the oil in a pot over high heat until it reaches smoking point. Once the oil is hot, add the herrings one by one and fry until crisp and golden. Only fry 3-4 herrings at a time so that the oil doesn't lose its heat. Remove the fish from the oil and drain until ready to serve. Bring the oil back up to a high heat and fry another batch of herrings. Repeat with remaining fish.

To make the garlic and chilli garnish, fry the garlic cloves and whole chillies in the same oil until crisp and golden. Remove from the oil and drain.

To serve, place a few herrings on each plate, topped with the fried garlic and chilli and accompanied by some of the salad.

If you enjoyed this Crisp herring with a hot salad recipe then browse more Sri Lankan recipes and our most popular hainanese chicken rice recipe.
Sri Lankan Restaurants
Displaying 10 of 34 Sri Lankan Restaurants.
PLEASE NOTE: All submitted comments become the property of SBS. We reserve the right to edit and/or amend submitted comments. HTML tags other than paragraph, line break, bold or italics will be removed from your comment.
Featured Food & Recipes
Hot Tips
More
Fresh vs dry pasta
Similarly to pasta shapes, the choice between fresh and dry pasta is more about matching flavours and textures than about which is superior. Fresh pasta is well suited to delicate sauces, but its primary purpose is to make tortellini, ravioli and lasagne sheets.
Glossary
More
Chaat Masala
A sour blend of spices typically including amchur (dried green mango powder), dried ginger, cumin, coriander and black pepper and used in Pakistani cooking.