Devilled tuna recipe
Created by
Peter Kuruvita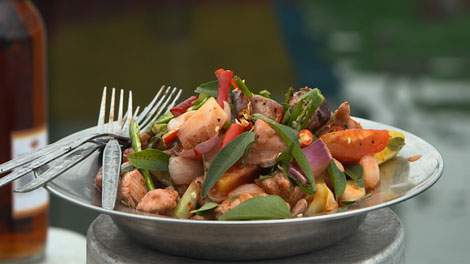 Ingredients
300g tuna fillet, cut into bite-size pieces
1 tsp chilli powder
1 sprig curry leaves, plus extra to serve
Juice of 1 lime
2 tbsp oil
1 medium onion, peeled, quartered
3 cloves garlic, peeled, finely chopped
2 medium leeks, washed, chopped
3 banana chillies, chopped
2 long red chillies, finely chopped, plus extra to serve
2 green chillies, finely chopped, plus extra to serve
Sweet and sour sauce
3 tbsp tomato sauce
3 tbsp vinegar
View conversion table
Preparation
Place the tuna in a bowl with salt, chilli powder, curry leaves and lime juice. Stir to coat the tuna and set aside to marinate for 10 minutes.

To make the sweet and sour sauce, combine the tomato sauce and vinegar and set aside until ready to use.

Heat the oil in a wok over high heat. Once it reaches smoking point, add the onion, garlic and leeks.

Once the mixture is fragrant and the onion is translucent, add the chillies and fry for a few minutes, stirring occasionally.

Add the tuna and toss to coat in the spice mixture. Stir in the sweet and sour sauce and cover. Leave to cook for a few minutes, or until the tuna is just cooked.

Season with salt and pepper and serve sprinkled with curry leaves and the reserved chilli.

If you enjoyed this Devilled tuna recipe then browse more Sri Lankan recipes, seafood recipes, healthy recipes and our most popular hainanese chicken rice recipe.
Sri Lankan Restaurants
Displaying 10 of 34 Sri Lankan Restaurants.
PLEASE NOTE: All submitted comments become the property of SBS. We reserve the right to edit and/or amend submitted comments. HTML tags other than paragraph, line break, bold or italics will be removed from your comment.
Featured Food & Recipes
Hot Tips
More
Roasting spices
Spices have a much greater kick when roasted and ground just before using. Place them in a small dry frying pan and shake over low heat until just fragrant, then remove from the heat and allow to cool before grinding. Over-roasting spices tends to make them very bitter, so make sure you remove the spices as soon as they yield a toasted aroma.
Glossary
More
Quinoa
A South American grain that is becoming popular in health food stores and can be used like barley or other grains.