String hoppers with kiri hodi recipe
Created by
Peter Kuruvita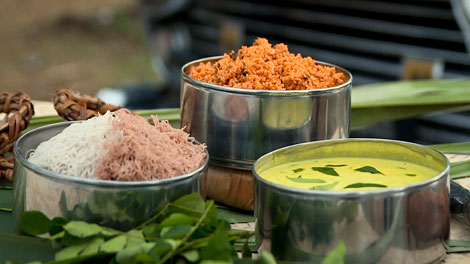 String hoppers are made from a hot-water dough of rice meal or wheat flour. This is pressed out in circlets from a string mould onto little wicker mats, then steamed. Light and lacy, string hoppers make a mouth-watering meal with curry and sambol. String hopper moulds and mats are available from your Sri Lankan grocer.

My choice is wheat flour; though you have to steam the flour first. Using rice flour gives you a basic rice noodle in a different shape.

Fresh pol sambol is great with everything and is served with nearly every meal. We used to wait until the hot bread arrived from the bakery next door and then put a big spoonful of it on the hot bread. Fresh coconut should be used with this dish, as dry or desiccated isn't as juicy. When we arrived in Australia in 1979, it was very hard to get a fresh coconut, so we used to re-constitute the desiccated with some warm water. It's not as good as fresh, but is acceptable.

I have used paprika solely to give the sambol a rich red colour; you can use more red chilli if you prefer it very hot. The sambol is supposed to be an orangey red colour.

Ingredients
String hoppers
450g steamed wheat flour or rice flour
Salt
1 litre boiling water
Kiri hodi
1 onion, thinly sliced
1 small green chilli, halved lengthways
4-6 fresh curry leaves
2cm piece of pandanus leaf
2 garlic cloves, thinly sliced
1/2 tsp ground turmeric
1/2 tsp fenugreek seeds
1 tsp maldive fish flakes (optional)
1 tsp salt
500ml (17 fl oz/ 2 cups) thick coconut milk
1 tbsp lime juice
Coconut sambol
60g bombay onions
1 tsp black peppercorns
1 tbsp maldive fish flakes
2 tsp chilli powder
1 tsp paprika powder
1 large fresh coconut scraped or 100g of dry with 100ml water
1 lime juiced
Salt, to taste
View conversion table
Preparation
To make the string hoppers, wrap the flour in a clean cloth and place in a bamboo steamer for 1 hour. While hot, transfer to the jug of a blender to break it up. Sift the steamed flour into a bowl.

Bring 1/2 litre of water to the boil. Transfer to a large bowl to cool slightly.

Add the salt to the steamed flour. Work it with your hands until a soft dough forms. Squeeze out the dough onto wicker mats, making an even double layer. Stack the mats on top of each other and steam for 3-5 minutes.

To make the kiri hodi, place all the ingredients except the coconut milk and lime juice into a heavy-based saucepan. Add 1 cup water and simmer over low heat for 5 minutes or until the onion softens.

Add the coconut milk, stirring continuously for 1-2 minutes (do not let the mixture boil). Remove from heat, season to taste with salt. Add the lime juice.

To make the coconut sambol, in a large mortar and pestle, grind the onions. Add the peppercorns and Maldive fish, and crush well. Stir in the chilli and paprika and work until a coarse paste forms.

Add the coconut and pound together, so the coconut and paste are thoroughly combined.

Gradually add the lime juice and season with salt.

If you enjoyed this String hoppers with kiri hodi recipe then browse more Sri Lankan recipes, curry recipes, noodle and dumpling recipes, prepare ingredients in advance recipes and our most popular hainanese chicken rice recipe.
Sri Lankan Restaurants
Displaying 10 of 34 Sri Lankan Restaurants.
PLEASE NOTE: All submitted comments become the property of SBS. We reserve the right to edit and/or amend submitted comments. HTML tags other than paragraph, line break, bold or italics will be removed from your comment.
Featured Food & Recipes
Hot Tips
More
Kebabs
To achieve the best results when making kebabs, 'beat' the minced meat mixture well with your hand until it is a smooth paste. This not only combines the ingredients but also makes it easier to shape and stops them falling apart.
Glossary
More
Parsnips
A white-cream-coloured root vegetable with an agreeable peppery taste. A winter vegetable.