Chicken curry recipe
Created by
Charmaine Solomon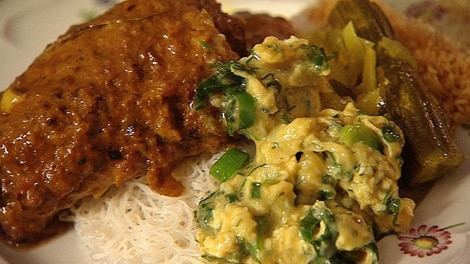 Cuisine:

Sri Lankan

Prep Time: 10 min(s)
Cook Time: 1 hr(s) 10 min(s)

Serves 6
Ingredients
2 tbsp clarified butter (ghee) or vegetable oil (or a combination)
¼ tsp fenugreek seeds
10 curry leaves on the stem
2 large onions, finely chopped
4–5 garlic cloves, finely chopped
2 tsp grated ginger
1 tsp turmeric
1 tsp chilli powder
1 tbsp ground coriander
½ tsp ground fennel
1 tsp ground cumin
2 tsp sweet paprika
2 tsp salt
2 tbsp vinegar
2 tomatoes, peeled and chopped
6 cardamom pods, cracked
1 cinnamon stick
1 lemongrass stalk, bruised
1 pandan leaf, folded
1.5 kg chicken thighs on the bone
250 ml thick coconut milk
lemon juice (optional)
View conversion table
Preparation
Heat the ghee or oil and fry the fenugreek seeds and curry leaves until the leaves start to brown. Add the onion, garlic and ginger and fry gently until the onion is soft and translucent. Add the ground spices, salt and vinegar and stir well. Add the tomato, whole spices, lemongrass and pandan leaf, then add the chicken. Stir to coat the chicken pieces in the spices, then cover and cook over low heat for 40–50 minutes. The curry will look dry at first but liquid will be released from the chicken.

Stir in the coconut milk and taste for salt. Add a squeeze of lemon juice if desired.

SBS cook's notes
Oven temperatures are for conventional; if using fan-forced (convection), reduce the temperature by 20˚C. | We use Australian tablespoons and cups: 1 teaspoon equals 5 ml; 1 tablespoon equals 20 ml; 1 cup equals 250 ml. | All herbs are fresh (unless specified) and cups are lightly packed. | All vegetables are medium size and peeled, unless specified. | All eggs are 55–60 g, unless specified.
If you enjoyed this Chicken curry recipe then browse more Sri Lankan recipes, curry recipes, meat recipes and our most popular hainanese chicken rice recipe.
Sri Lankan Restaurants
Displaying 10 of 34 Sri Lankan Restaurants.
PLEASE NOTE: All submitted comments become the property of SBS. We reserve the right to edit and/or amend submitted comments. HTML tags other than paragraph, line break, bold or italics will be removed from your comment.
Featured Food & Recipes
Hot Tips
More
Rolling a lemon to get more juice out
Rolling a lemon back and forth on your work surface will soften it and allow for more juices to be extracted. This is a good technique to remember before squeezing out the juice of any citrus fruit.
Glossary
More
Fish Sauce
An essential ingredient of Thai cooking it is a pungent, salty liquid made from fresh anchovies.