Love cake recipe
Created by
Peter Kuruvita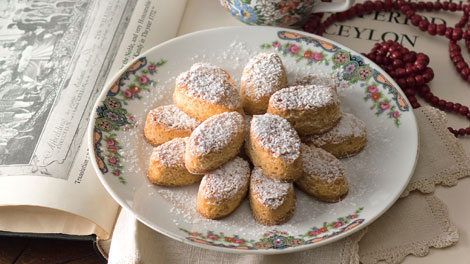 Cuisine:

Sri Lankan

Prep Time: 25 min(s)
Cook Time: 1 hr(s)

Makes 1 cake
Peter Kuruvita shares his recipe for the classic Sri Lankan sweet treat called Love cake. Scented with nutmeg, cinnamon, honey and rosewater, it's perfect afternoon tea fare, especially with cup of tea. To make a gluten-free version of this cake, substitute semolina with corn or rice semolina.
Ingredients
300g semolina, lightly toasted
125g butter
10 eggs, separated
400g sugar
¼ cup grated crystallised pumpkin (available at Sri Lankan grocers)
80g honey
185g cashews, crushed
40ml rosewater
¼ tsp nutmeg
¼ tsp cinnamon
Zest of 2-3 limes
Icing sugar, to serve
View conversion table
Preparation
Level of difficulty: medium




Preheat oven to 200°C.

Place the semolina and butter in a tray. Place in an oven until the butter has melted.

Meanwhile, whisk the egg yolks in a large bowl. Add the sugar and mix until combined. Stir in the crystallised pumpkin. Stir in the honey and cashews. Add the rosewater and stir to combine. Add the nutmeg and cinnamon and stir until the mixture is pale.

In a clean dry bowl, beat the egg whites until soft peaks form. Fold the egg whites into the cake mixture. Stir in the lime zest.

Add the semolina-butter mixture to the cake mixture. Pour into a tray lined with baking paper. Bake in preheated oven for 1 hour or until firm to touch. Remove from oven and set aside to cool slightly. Dust with icing sugar and cut into slices to serve.

If you enjoyed this Love cake recipe then browse more Sri Lankan recipes, cake recipes, baking recipes and our most popular hainanese chicken rice recipe.
Sri Lankan Restaurants
Displaying 10 of 34 Sri Lankan Restaurants.
PLEASE NOTE: All submitted comments become the property of SBS. We reserve the right to edit and/or amend submitted comments. HTML tags other than paragraph, line break, bold or italics will be removed from your comment.
Featured Food & Recipes
Hot Tips
More
In a pickle
If you want to pickle your own fish or cucumbers, it's essential your jars and lids are properly sterilised before sealing to avoid spoilage. Preheat the oven to 120°C and line a baking tray with a clean tea towel. Wash the jars and lids in hot soapy water, then place in a large saucepan of cold water and bring to the boil over high heat. Reduce the heat to medium and simmer gently for 10 minutes. Using metal tongs, carefully remove the jars and lids from the water and place upside down on the lined tray. Place in the oven for 15–20 minutes or until dry. Alternatively, place the jars and lids in the dishwasher and run on the hottest cycle. This is a good option if you're using rubber seals or plastic lids. As a rule, hot preserves should go into hot jars and cold preserves into cold jars.
Glossary
More
Rosewater
A Middle Eastern essence used to flavour drinks and sweets. Found in any Middle Eastern grocery store.