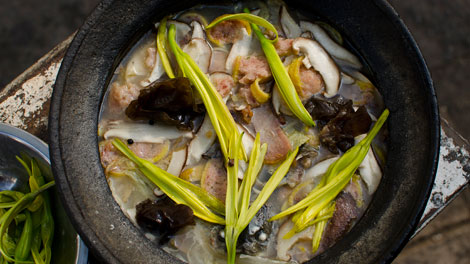 Cuisine:

Chinese

Prep Time: 20 min(s)
Cook Time: 35 min(s)
This soup is 700 years old and is much more savoury than a traditional spicy-sour style soup. Meaty, rich flavours dominate.

Egg dumpling sheets can be substituted for wonton sheets.

Ingredients
2 tbsp vegetable oil
4cm ginger, julienned
1 tsp Sichuan pepper
1 carp, cleaned, butterflied
2 Chinese cabbage leaves, cut into 3cm pieces
1 handful soaked glass noodles
1 cup wood ear mushroom
1 cup tofu skins, sliced
1 tbsp dried shrimp
10cm piece cured pork, finely sliced
3 pork filled egg rolls, sliced
3 shiitake mushrooms, sliced
Fresh day lily buds, to garnish
View conversion table
Preparation
Heat the oil in a pan over medium heat. Add the ginger and Sichuan pepper. Sauté until fragrant.

Place the fish, skin-side down first, in the pan and cook for 2 minutes each side.

Heat a medium-sized clay pot. Add the cabbage. Transfer the fish mixture to the claypot. Top with the glass noodles, wood ear mushrooms and tofu skin. Cover with water. Add the dried shrimp and cured pork. Bring to the boil, reduce heat to low and simmer for 30 minutes. Skim any impurities from the surface.

Add the egg rolls and shiitake mushrooms. Garnish with lily buds. Cook for a further 10 minutes and serve.

If you enjoyed this Fish claypot recipe then browse more Chinese recipes, seafood recipes, entertaining recipes and our most popular hainanese chicken rice recipe.
Chinese Restaurants
Displaying 10 of 815 Chinese Restaurants.
PLEASE NOTE: All submitted comments become the property of SBS. We reserve the right to edit and/or amend submitted comments. HTML tags other than paragraph, line break, bold or italics will be removed from your comment.
Featured Food & Recipes
Hot Tips
More
Poffertjes pancake fillings
To make filled poffertjes, pour a small amount of batter in the poffertjes pan, add a teaspoon of jam, raisins, shredded apple or almond paste, and cover with a little more batter.
Glossary
More
Cassoulet
Stew made up of dried white beans, pork, lamb, goose or duck, sausage, vegetables and herbs.