Pumpkin curry recipe (wattaka kalu pol)
Created by
Sunil Ranasinghe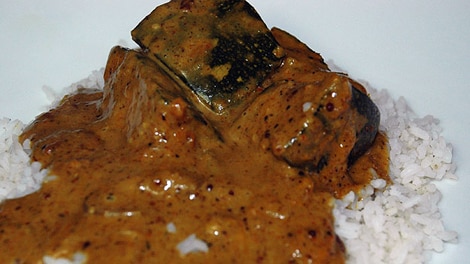 Cuisine:

Sri Lankan

Prep Time: 15 min(s)
Cook Time: 20 min(s)

Serves 6
A simple but delicious vegetable curry that uses Sri Lanka's dark roasted curry powder and is thickened and flavoured with toasted rice and desiccated coconut. A truly glorious dish.
Ingredients
2 tbsp vegetable oil
2 medium red onions, finely sliced
2 sprigs curry leaves
4 garlic cloves, finely sliced
3 long green chillies, sliced
½ tsp black mustard seeds, ground
½ tsp fenugreek seeds
1 kg pumpkin, cut into cubes, skin left on
1 tsp seeded mustard
2 tbsp dark roasted curry powder
1 tsp chilli powder
1 tsp turmeric
1–2 tsp salt
500 ml coconut milk
2 tbsp short-grain rice
⅓ cup desiccated coconut
View conversion table
Preparation
Heat the oil in a large saucepan and add the onion, curry leaves, garlic and green chilli. Fry briefly then add the mustard and fenugreek seeds and continue frying.

Quickly toss the pumpkin in a bowl with the seeded mustard, ground spices and salt and add to the pan along with the coconut milk. Bring to the boil and cook over high heat until the pumpkin is tender.

Meanwhile, heat a small frying pan and dry-fry the rice and coconut until brown and fragrant. Grind to a powder in a mortar or blender.

Add the rice and coconut powder to the curry and cook for a few more minutes.

SBS cook's notes
Oven temperatures are for conventional; if using fan-forced (convection), reduce the temperature by 20˚C. | We use Australian tablespoons and cups: 1 teaspoon equals 5 ml; 1 tablespoon equals 20 ml; 1 cup equals 250 ml. | All herbs are fresh (unless specified) and cups are lightly packed. | All vegetables are medium size and peeled, unless specified. | All eggs are 55–60 g, unless specified.
If you enjoyed this Pumpkin curry recipe (wattaka kalu pol) then browse more Sri Lankan recipes, curry recipes, vegetarian recipes and our most popular hainanese chicken rice recipe.
Sri Lankan Restaurants
Displaying 10 of 34 Sri Lankan Restaurants.
Comments (12)
Previous
Page 1
|
2
Next
PLEASE NOTE: All submitted comments become the property of SBS. We reserve the right to edit and/or amend submitted comments. HTML tags other than paragraph, line break, bold or italics will be removed from your comment.
Featured Food & Recipes
Hot Tips
More
Red wine or white wine?
The general rule with wine is that red wine, with its richer and deeper flavours, is a great accompaniment to red meats, while white wine works well with white meats (fish and chicken). However take time to experiment, there are plenty of exceptions to the rules and with wine the rules are definitely made to be broken.
Glossary
More
Dried Prawns
Known as camarao seco in Brazilian cooking. Tinely blended to a powder or soaked and ground, these tiny sun-dried prawns add a great depth of flavour to Bahian dishes such as xinxim de galinha.