Tea-infused sticky sesame dumplings recipe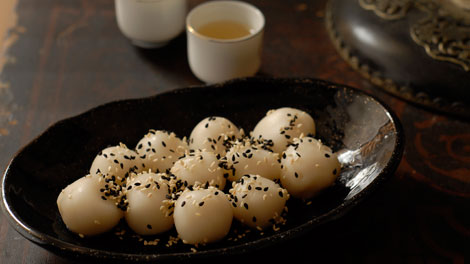 Ingredients
2 tbsp green tea
75g glutinous rice flour
35g rice flour
¼ tsp salt
100ml water
20g palm sugar, chopped into small pieces
1/2 tsp toasted white sesame seeds
1/2 tsp toasted black sesame seeds
View conversion table
Preparation
In a mixing bowl, combine the flours and salt. Add the water and stir with a spoon or your hands until a dough forms.

Divide the dough into 12 equal parts. Roll each portion into a ball.

Press 1 piece of dough with your thumb, forming a small pocket in the centre. Place ½ teaspoon of palm sugar inside. Seal the pocket by squeezing the mixture together and roll it into a small ball again. Repeat with the remaining dough and palm sugar. Place the dumplings on a tray lined with plastic wrap.

Bring a large saucepan of water to the boil. Add the tea. Add the dumplings, in two batches, and cook for 6 minutes.

Remove with a slotted spoon, drain, and transfer to a serving platter.

Sprinkle with the black and white sesame seeds. Serve hot.

If you enjoyed this Tea-infused sticky sesame dumplings recipe then browse more Chinese recipes, noodle and dumpling recipes, dessert recipes, vegetarian recipes and our most popular hainanese chicken rice recipe.
Chinese Restaurants
Displaying 10 of 815 Chinese Restaurants.
PLEASE NOTE: All submitted comments become the property of SBS. We reserve the right to edit and/or amend submitted comments. HTML tags other than paragraph, line break, bold or italics will be removed from your comment.
Featured Food & Recipes
Hot Tips
More
Seasoning meat for goulash
After you have diced your meat for the goulash place it in a plastic bag and add flour and salt and pepper. Twist the top of the bag to seal and give it a good shake. This will ensure that all the meat is evenly coated in the seasoned mixture before you brown it.
Glossary
More
Vongole
The Italian name for "baby clams".