Chickpea tofu soup recipe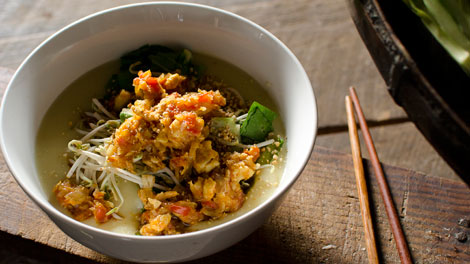 Ingredients
400g chickpea powder
1 litre cold water
4 tbsp peanut oil
¼ tsp turmeric powder
5 red shallots, diced
3 garlic cloves, pounded
4cm ginger, peeled, pounded
3 tomatoes, diced
1 tsp paprika powder
Pinch of salt
3 chicken thigh fillets, diced
400g rice noodles, blanched
200g blanched baby bok choy
200g bean sprouts
4 tsp toasted black sesame
4 tsp crushed roasted peanuts
2 tsp fried garlic
4 tsp light soy sauce
4 tsp sugar cane syrup
Sliced spring onion, to garnish
Dried chilli flakes, to garnish
Lime wedges, to garnish
View conversion table
Preparation
In a large bowl, combine the chickpea powder and water. Mix well. Set aside for 2 hours.

Transfer the top half of the liquid to a pot over low heat, stirring for 15 minutes.

Add a few tablespoons of the remaining liquid every 5 minutes, stirring continuously, for 15 minutes. (The liquid will become thicker.)

Meanwhile, heat a pan over medium heat. Add the oil. Sauté the turmeric powder, red shallots, garlic and ginger, stirring occasionally, for 15 minutes.

Add the tomatoes, paprika powder, salt and chicken. Stir-fry for 10 minutes. Remove from heat and set aside.

To serve, divide noodles among 4 soup bowls. Ladle the chickpea mixture over the noodles. Add the baby bok choy, bean sprouts, black sesame, peanuts, fried garlic, soy sauce and sugar cane syrup. Top with the tomato-chicken mixture.

Garnish with the spring onion, chilli flakes and lime.

If you enjoyed this Chickpea tofu soup recipe then browse more Burmese recipes, soup recipes, noodle and dumpling recipes, meat recipes, child-friendly recipes and our most popular hainanese chicken rice recipe.
Burmese Restaurants
Displaying 2 of 2 Burmese Restaurants.
Comments (9)
Previous
Page 1
|
2
Next
PLEASE NOTE: All submitted comments become the property of SBS. We reserve the right to edit and/or amend submitted comments. HTML tags other than paragraph, line break, bold or italics will be removed from your comment.
Featured Food & Recipes
Hot Tips
More
Floury vs. waxy potatoes
Waxy potatoes tend to hold their shape and remain firm and compact when boiled. Floury potatoes become fluffy and airy inside and are best used for baking, roasting, mashing and deep-frying. Due to their low sugar content they tend to fall apart when boiled.
Glossary
More
Manchego
Made from ewe's milk, it is a Spanish cheese that originated in La Mancha. The cheese is very fatty and firm to the touch.