Crispy spring onion fritter recipe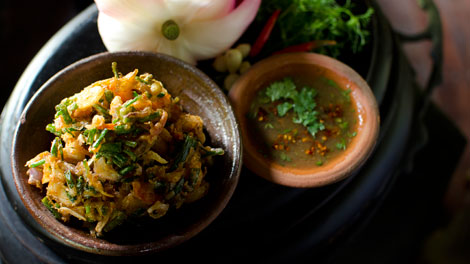 Ingredients
10 spring onions, green part only, cut into 3cm lengths
1 tomato, sliced
1 Asian shallot, finely sliced
1 tsp hot paprika powder
1 tsp salt
2cm ginger, peeled, pounded
2 garlic cloves, peeled, pounded
5 tbsp rice flour
3 tbsp glutinous rice flour
½ tsp baking powder
½ cup of beer
500ml peanut oil, for deep-frying
10 lotus flowers
Tamarind dipping sauce
½ cup tamarind water
1 tsp sugar
½ tsp pounded ginger
½ tsp pounded garlic
½ tsp dried chili flakes
1 tsp sliced coriander
View conversion table
Preparation
To prepare the tamarind dipping sauce, in a bowl, combine all the ingredients and mix well. Set aside.

Place the spring onion, tomato, shallot, paprika, salt, ginger and garlic in a bowl. Add the flours and baking powder, and mix to combine. Gradually add the beer until the mixture begins to stick together.

Heat the peanut oil in a wok over high heat. Form the mixture into balls and fry until golden brown for 2-3 minutes or until golden brown and crisp.

Wrap the fritters with a lotus flower. Serve with the tamarind dipping sauce.
If you enjoyed this Crispy spring onion fritter recipe then browse more Burmese recipes, appetiser recipes, vegetarian recipes and our most popular hainanese chicken rice recipe.
Burmese Restaurants
Displaying 2 of 2 Burmese Restaurants.
PLEASE NOTE: All submitted comments become the property of SBS. We reserve the right to edit and/or amend submitted comments. HTML tags other than paragraph, line break, bold or italics will be removed from your comment.
Featured Food & Recipes
Hot Tips
More
Soaking a clay-pot
Before cooking with a clay-pot soak it in water (which is absorbed into the pores of the clay). As the pot heats up in the oven, the water will evaporate, producing steam, this will prevent the food from drying out.
Glossary
More
Quince Paste
A rich crimson jam-like paste which is often served sliced on bread with manchego cheese