Young bamboo shoots stuffed with pork and ginger leaf recipe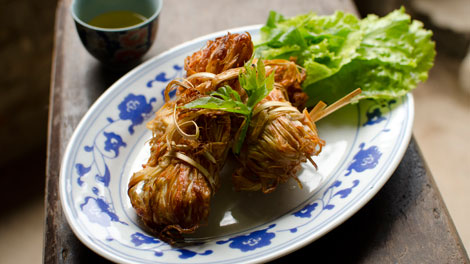 Ingredients
150g sliced pork
1 green chilli, chopped
1 red chilli, chopped
3 cloves of garlic, chopped
Pinch of salt
2 young bamboo shoots, semi-stripped
2 ginger leaves, finely sliced
2 bamboo or kitchen string
Vegetable oil, for deep-frying
View conversion table
Preparation
Place the pork, green and red chilli, garlic and salt on a large chopping board. With 2 sharp knives or cleavers, mince the ingredients. Transfer to a bowl and mix to combine.

Place 1 young bamboo shoot on a clean work bench. Place 1 tablespoon of the pork mixture in the centre. Sprinkle with ginger leaf and close to form a parcel, securing it with bamboo or kitchen string. Repeat with remaining ingredients.

In a medium-sized wok, heat the vegetable oil. Deep-fry the pork parcels at 180°C for 3-4 minutes each side or until golden brown and crisp.

Serve as a snack with sticky rice.

If you enjoyed this Young bamboo shoots stuffed with pork and ginger leaf recipe then browse more Burmese recipes, side dish recipes, meat recipes, quick recipes and our most popular hainanese chicken rice recipe.
Burmese Restaurants
Displaying 2 of 2 Burmese Restaurants.
PLEASE NOTE: All submitted comments become the property of SBS. We reserve the right to edit and/or amend submitted comments. HTML tags other than paragraph, line break, bold or italics will be removed from your comment.
Featured Food & Recipes
Hot Tips
More
Ethiopian Injera
Injera, the Ethiopian pancake-style bread is traditionally made with teff (a native wheat). Teff flour may be available at good health food stores, however if you can't find it, substitute buckwheat, which does not taste exactly like injera but is similar in texture and colour.
Glossary
More
Cayenne Pepper
A fiery hot red chilli pepper, sometimes used as a seasoning or flavouring.