Stir-fried aromatic smoked beef recipe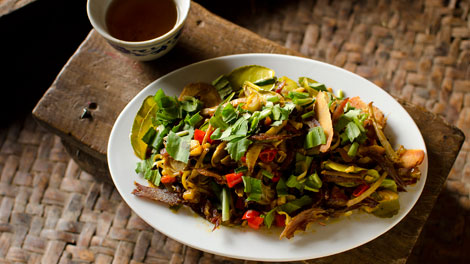 Ingredients
200g smoked beef
2 tbsp vegetable oil
2 cloves of garlic, diced
3 Asian shallots, sliced
3cm ginger, julienne
5cm galangal, sliced
1 lemongrass stalk, chopped
1 tsp turmeric powder
½ tsp paprika powder
Pinch of salt
2 red chilli, sliced
1 cup reserved cooking liquid
8 kaffir lime leaves
1 spring onion, sliced
4 sawtooth coriander sprigs, sliced
View conversion table
Preparation
Boil the smoked beef for 1 hour or until softened. Strain and reserve the cooking liquid. Once the beef has cooled, finely slice and set aside.

Heat the oil in a frypan or wok over high heat. Add the garlic and Asian shallots, and stir-fry until fragrant. Add the ginger, galangal, lemongrass, turmeric, paprika, salt, beef, chilli and the reserved cooking liquid. Reduce the heat to medium-low and simmer for 4 minutes.

Add the kaffir lime leaves and spring onion.

Garnish with sawtooth coriander. Serve with sticky rice or jasmine rice.

If you enjoyed this Stir-fried aromatic smoked beef recipe then browse more Burmese recipes, stir-fry recipes, meat recipes, easy recipes and our most popular hainanese chicken rice recipe.
Burmese Restaurants
Displaying 2 of 2 Burmese Restaurants.
PLEASE NOTE: All submitted comments become the property of SBS. We reserve the right to edit and/or amend submitted comments. HTML tags other than paragraph, line break, bold or italics will be removed from your comment.
Featured Food & Recipes
Hot Tips
More
Meat slices
To achieve the fine slices of meat required in many Korean dishes, the meat is sliced whilst frozen.
Glossary
More
Nopales
Nopales is an essential ingredient in Mexican cooking. Sold in jars, it is a type of cactus. When cut into strips, it is known as Nopalitos.