Warm buffalo-skin salad recipe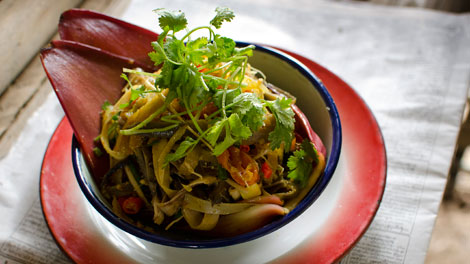 Ingredients
80g dried buffalo skin
1 banana blossom heart, peeled
2 tbsp peanut oil
3 garlic cloves, diced
3 red onion, sliced
½ tsp turmeric powder
½ tsp paprika powder
1 tomato, chopped
1 tsp salt
1 red chilli, sliced
2 snake beans, sliced
3 garlic chives, sliced
1 Indian root, sliced
3 tbsp crushed roasted peanuts, plus extra to garnish
Coriander, to garnish
View conversion table
Preparation
In a saucepan, boil the buffalo skin for 1 hour or until soft. Strain and set aside.

In another saucepan, boil the banana blossom for 15 minutes, strain and finely slice. Set aside.

Heat the peanut oil in a frypan over medium heat. Add the garlic and fry until fragrant.

Add the onion, turmeric and paprika. Sauté the garlic and onion for a further 3 minutes.

Add the tomato and salt, and cook for a further 2 minutes. Add the buffalo skin and chilli. Stir-fry for 3 minutes.

Meanwhile, in a large bowl, place the banana blossom, snake beans, garlic chives, Indian root and peanuts. Toss to combine. Add the hot garlic mixture to the bowl.

Mix well and transfer to a serving bowl. Garnish with coriander and more crushed peanuts.

If you enjoyed this Warm buffalo-skin salad recipe then browse more Burmese recipes, salad recipes, prepare ingredients in advance recipes and our most popular hainanese chicken rice recipe.
Burmese Restaurants
Displaying 2 of 2 Burmese Restaurants.
PLEASE NOTE: All submitted comments become the property of SBS. We reserve the right to edit and/or amend submitted comments. HTML tags other than paragraph, line break, bold or italics will be removed from your comment.
Featured Food & Recipes
Hot Tips
More
Seasoning meat for Goulash
After you have diced your meat for the goulash place it in a plastic bag and add flour and salt and pepper. Twist the top of the bag to seal and give it a good shake. This will ensure that all the meat is evenly coated in the seasoned mixture before you brown it.
Glossary
More
Oyster
A saltwater shellfish, invariably sold fresh. Usually be steamed, grilled, poached or eaten raw.