Battered whiting and fat chips with Schezwan salt recipe
Created by
Peter Kuruvita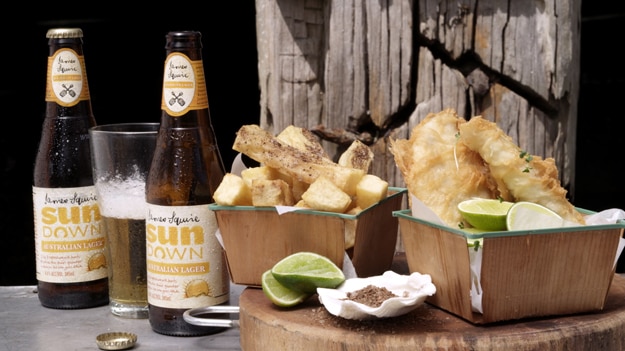 Cuisine:

Modern Australian
This advertisement is directed at adults. James Squire encourages the responsible consumption of alcohol.
Ingredients
400g whiting fillets fillet, skin on
Canola, grape seed or vegetable oil, for deep-frying
10 Pontiac potatos
3 litres vegetable oil
Lime wedges, to serve
Batter
3 cups self-rising flour
2 cups plain flour, plus extra, for dusting
1 cup corn flour
100ml vegetable oil
350ml Sundown Australian Larger
350ml water
Szechwan salt and pepper mix
1 cup sea salt
¾ cup Szechwan peppercorns
6 cloves
9 star anise
3 cinnamon
4 dried chillies
View conversion table
Preparation
Toast each of the salt-and-pepper mix ingredients in a frypan separately. Place in a food processor and blitz to a fine powder. Pass through a fine sieve.

To make the batter, place all the ingredients in a bowl. Whisk until a smooth batter forms. It should have the consistency of thick pancake batter. Cover and refrigerate.

To make the dressing, place all the ingredients in a bowl, season with salt, and whisk.

Fill a large saucepan or wok two-thirds full of oil and heat to 180°C.

Working in batches, dust the whiting in flour, then dip in the batter, allowing the excess to drip away. Deep-fry the fish, turning occasionally, until golden and crisp. Drain on paper towel.

Cut the potatoes into 3cm chips and blanch in oil that is about 140°C for 7 minutes or until golden brown. Toss with the Szechwan salt and pepper mix. Set aside until required.

To serve, arrange the chips on serving plates and top with the fish. Serve immediately with lime wedges.

Or place in a cone, made from paper or bamboo.

Beer match Sundown Australian Larger.
If you enjoyed this Battered whiting and fat chips with Schezwan salt recipe then browse more Modern Australian recipes, seafood recipes, quick recipes and our most popular hainanese chicken rice recipe.
Modern Australian Restaurants
Displaying 10 of 601 Modern Australian Restaurants.
PLEASE NOTE: All submitted comments become the property of SBS. We reserve the right to edit and/or amend submitted comments. HTML tags other than paragraph, line break, bold or italics will be removed from your comment.
Featured Food & Recipes
Hot Tips
More
Soak and steam
Sticky rice needs to be soaked in cold water for at least 4 hours before steaming. If it's boiled, the grains will collapse and go mushy.
Glossary
More
Mirin
A sweetish Japanese rice wine.