Beer-braised oxtail tartlet with bitter chocolate recipe
Created by
Peter Kuruvita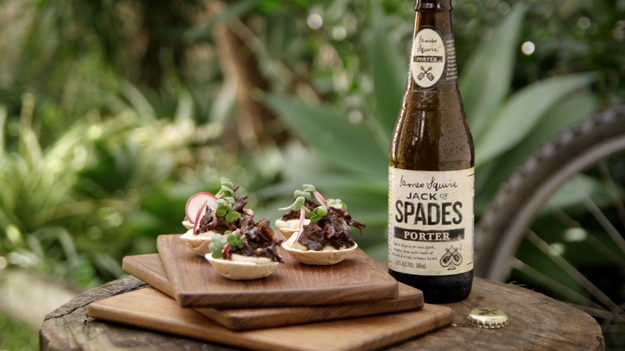 This advertisement is directed at adults. James Squire encourages the responsible consumption of alcohol.


Ingredients
12 x 3cm savoury tart cases
2 large red radishes
2 tbsp lemon juice
2 oxtails, trimmed and cut into 4 equal-sized pieces
Sea salt
Oil, for frying
1 onion, sliced
1 garlic clove, sliced
125ml port
1 orange, juice and zest
½ litre beef stock
½ litre Jack of Spades Porter
1 tbsp cracked black pepper
50g butter
60g chocolate, 70% cocoa solids, broken into squares
½ bunch of chives, chopped, to serve
Cauliflower puree
10 eshallots
5 garlic
2 heads cauliflower
1L chicken stock
View conversion table
Preparation
To make the cauliflower puree, sweat eshallot and garlic. Add the cauliflower and stock, and cook until the cauliflower softens and breaks down.

Strain and reserve liquid. Puree until smooth. Season with salt and pepper. Add liquid if necessary.

Peel and finely slice the radish. Place in a bowl and cover with the lemon juice (add a little water as needed).

Preheat the oven to 180°C/350F/Gas 4.

Season the oxtails with salt. Heat oil in a large ovenproof pan. Add the oxtails and brown on all sides. Remove the meat from the pan and set aside.

In the same pan, fry the onion and garlic until brown. Return the meat to the pan. Deglaze the pan with the port and orange juice. Reduce heat to low and reduce the liquid until thick. Add the stock, beer, pepper and orange zest.

Cover with greaseproof paper and cook, in preheated oven, for about 3 hours or until the meat is tender.

When the beef is cooked, remove from the pan. Place a sieve over a bowl and strain the cooking liquid. Pour the liquid into a clean pan and reduce to a syrupy consistency. Whisk in the remaining butter and chocolate.

While hot, remove the meat from the bone. Place into the chocolate mixture.

To serve, place a teaspoon of cauliflower puree into the tart cases, followed by the oxtail meat. Garnish with the radish and chives.

Beer match Jack of Spades Porter

If you enjoyed this Beer-braised oxtail tartlet with bitter chocolate recipe then browse more Mexican recipes, pizza, pie and tart recipes, meat recipes, baking recipes, slow cooking recipes and our most popular hainanese chicken rice recipe.
Mexican Restaurants
Displaying 10 of 241 Mexican Restaurants.
PLEASE NOTE: All submitted comments become the property of SBS. We reserve the right to edit and/or amend submitted comments. HTML tags other than paragraph, line break, bold or italics will be removed from your comment.
Featured Food & Recipes
Hot Tips
More
Preparing a new Tajine
To prepare a new tajine before cooking; soak overnight in water (the bathtub is a good place). Then fill with water, add same salt and a few bay leaves and a few cardamom pods. Heat over a low gas flame, until boiling to infuse the herbs into the porous terracotta. If your tajine is used regularly this won't need to be redone. Tajines can be used on the barbecue, charcoal or low gas flame but are not recommended for electric cook tops or in the oven.
Glossary
More
Chervil
Aromatic herb of the carrot family. It can be used in cheese dishes, egg dishes, soups, and salads.