Liègoise salad with mussels recipe (salade Liegoise aux moules)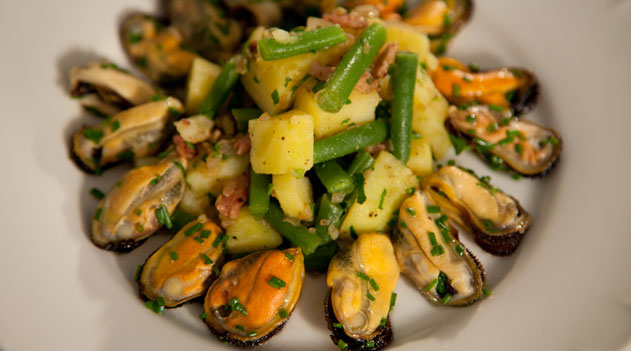 Cuisine:

Belgian

Serves 2
A delicious potato, bean and bacon salad that is a speciality of Liège. Here I serve it with mussels which are very popular in Belgium, but it can also be served on its own or with grilled meat or fish.
Ingredients
500g mussels, cleaned
30ml dry white wine or beer
2 medium potatoes cooked in the skin
200g green beans, steamed
Salt and freshly ground black pepper
2 rashers bacon, diced
1 tbsp olive oil
1 shallot, chopped
½ small brown onion, chopped
2 tbsp red wine vinegar
3 tbsp chopped parsley
2 tbsp finely cut chives
View conversion table
Preparation
Place the mussels in a saucepan with the wine, cover with a lid and bring to the boil. The mussels will open and be cooked after a few minutes. Shake the pan a few times during the cooking. When all the mussels are open, drain the liquid and remove the mussels from the shells.

Peel and cube the potatoes, place in a bowl with the cooked beans and season with a little salt and pepper.

Cook the diced bacon in a non-stick pan for a few minutes, then transfer the bacon to a plate.

Add the olive oil to the pan and cook the chopped shallot and onion until soft and lightly browned. Stir in the vinegar and just bring to the boil then mix this with the potatoes and beans. Gently mix in the bacon and chopped parsley.

Season the mussels with pepper and chives.

Serve a little of the Liègoise salad onto two plates, arrange the mussels around the salad and serve.
If you enjoyed this Liègoise salad with mussels recipe (salade Liegoise aux moules) then browse more Belgian recipes, salad recipes, entertaining recipes, egg-free recipes and our most popular hainanese chicken rice recipe.
Belgian Restaurants
Displaying 2 of 2 Belgian Restaurants.
PLEASE NOTE: All submitted comments become the property of SBS. We reserve the right to edit and/or amend submitted comments. HTML tags other than paragraph, line break, bold or italics will be removed from your comment.
Featured Food & Recipes
Hot Tips
More
Peeling and de-seeding tomatoes
To peel and de-seed a tomato, score a small cross in the base of the tomato with your knife; plunge in boiling water for 1 minute, refresh under cold water (running water seems to make peeling easier too); cut in half and scoop out seeds with a dessert spoon.
Glossary
More
Cabernet Vinegar
Red wine vinegar made from cabernet grapes.