Belgian chocolate mousse recipe (mousse au chocolate Belge)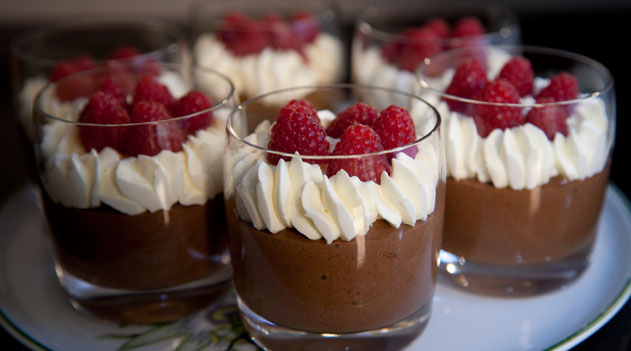 Cuisine:

Belgian

Serves 6
It's best to make your chocolate mousse one day ahead. You need 6 transparent glasses or you can serve the mousse in an attractive bowl.
Ingredients
2 tbsp cream
200g dark cooking chocolate, cut into pieces
4 egg yolks
A pinch of cream of tartar
6 egg whites
1 tbsp caster sugar
1½ cups whipped cream
500g raspberries
View conversion table
Preparation
Place the cream and chocolate pieces in a bowl resting over a bain-marie over medium heat and whisk until the chocolate has melted and is smooth. Remove the bowl from the bain-marie and stir in the egg yolks.

Add a pinch of cream of tartar to the egg whites and beat until fairly firm. Add the sugar and continue beating the whites into stiff peaks.

Using a whisk, gently incorporate a quarter of the beaten whites into the chocolate preparation, then carefully fold in the rest of the whites.

Spoon the mixture into a piping bag and pipe it into the glasses. Cover with plastic film and place in the refrigerator to set for half a day.

Before serving, pipe a little whipped cream on top of each mousse and garnish with a few raspberries.
If you enjoyed this Belgian chocolate mousse recipe (mousse au chocolate Belge) then browse more Belgian recipes, dessert recipes, chocolate recipes, prepare ingredients in advance recipes and our most popular hainanese chicken rice recipe.
Belgian Restaurants
Displaying 2 of 2 Belgian Restaurants.
PLEASE NOTE: All submitted comments become the property of SBS. We reserve the right to edit and/or amend submitted comments. HTML tags other than paragraph, line break, bold or italics will be removed from your comment.
Featured Food & Recipes
Hot Tips
More
Putting together a cheese plate
When compiling a cheese plate try to think of a combination of flavours as well as textures (sharp, pungent, crumbly, soft). This creates contrast as well as providing variety for your guests. Consider sweet additions such as cut apples, muscatels or honey.
Glossary
More
Burghul
Usually made from durum wheat, it is similar to couscous and used in salads and pilavs and in Lebanese cooking to make tabouleh and kibbeh.