Leek tart recipe (flamishe aux poireaux)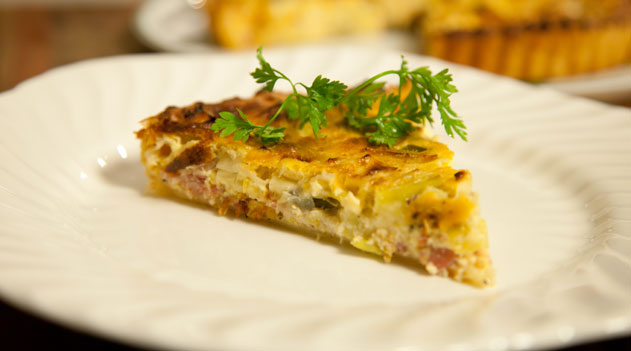 Cuisine:

Belgian

Serves 6-8
Ingredients
1 tbsp vegetable oil
150g diced bacon
30g butter
White part of 3 medium leeks, finely sliced
400g savoury pastry
4 large eggs
100ml milk
150ml cream
Salt and freshly ground black pepper
View conversion table
Preparation
Heat the oil in a wide non-stick pan and brown the bacon for 2-3 minutes. Transfer the bacon to a bowl.

Add the butter and the white of the leeks to the pan and cook over low heat for 10-15 minutes until the leeks are soft, stirring occasionally with a wooden spoon. Allow the leeks to cool.

Preheat the oven to 220°C.

Roll out the pastry to a thickness of about 4mm. Line the tin with the pastry and prick the pastry about 30 times with a fork.

Spread the cold leeks and bacon over the pastry.

In a bowl, whisk together the eggs, milk and cream. Season with salt and pepper, then carefully pour the mixture over the leeks.

Place in the hot oven and bake for about 40 minutes until the pastry is cooked. Serve hot.
If you enjoyed this Leek tart recipe (flamishe aux poireaux) then browse more Belgian recipes, pizza, pie and tart recipes, baking recipes and our most popular hainanese chicken rice recipe.
Belgian Restaurants
Displaying 2 of 2 Belgian Restaurants.
Comments (11)
Previous
Page 1
|
2
Next
PLEASE NOTE: All submitted comments become the property of SBS. We reserve the right to edit and/or amend submitted comments. HTML tags other than paragraph, line break, bold or italics will be removed from your comment.
Featured Food & Recipes
Hot Tips
More
Toasting spices
Toasting whole spices in a dry pan can help to bring out the essential oils and the flavour in the spice, however be careful to taste as you add the spice to your dish as the flavour will have changed and you may need less. Toasting pre-ground spices is a little trickier and it can ruin the flavour of the spice altogether.
Glossary
More
Oyster Mushrooms
An ear-like grey or greyish-brown bracket fungus that grows in clumps or clusters. Oyster mushrooms have a subtle flavour and are often used in Oriental cookery.