Mackerel the Flemish way recipe (maquereau à la Flamande)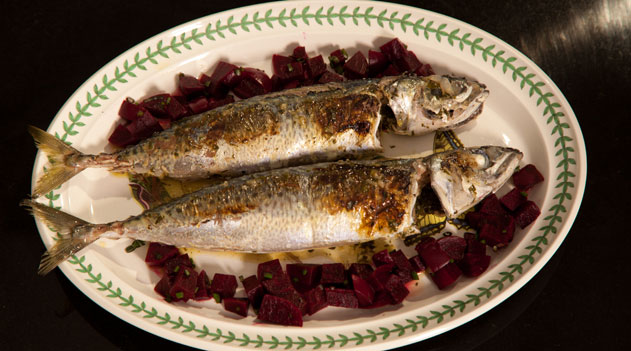 Mackerel is one of the most popular fish in the north of France. This flavoursome fish dish is often served with a beetroot salad.
Ingredients
100g butter (at room temperature)
2 tbsp chopped parsley
1 tbsp finely cut dill
1 shallot, finely chopped
1 tbsp finely cut chives
Juice of ½ lemon
Salt and freshly ground black pepper
Pinch of nutmeg
2 fresh mackerels, cleaned, gutted
2 lemon wedges
View conversion table
Preparation
In a bowl mix 80g of the butter with the parsley, dill, shallot, chives, lemon juice, a little salt and pepper and a pinch of nutmeg.

Fill the 2 mackerels with this herb butter. Place each mackerel on a piece of baking paper large enough to wrap the fish in. Brush the fish on both sides with the remaining butter (melted) and season with salt and pepper.

Wrap each fish in the baking paper and tie neatly with kitchen string.

Place the fish on a hot grill or the flat plate of a barbecue and cook for about 10 minutes until the fish is cooked.

Carefully unwrap the fish and transfer them onto plates. Spoon the melted herb butter over the top and serve garnished with a lemon wedge.
If you enjoyed this Mackerel the Flemish way recipe (maquereau à la Flamande) then browse more French recipes, seafood recipes, easy recipes, quick recipes and our most popular hainanese chicken rice recipe.
French Restaurants
Displaying 10 of 470 French Restaurants.
PLEASE NOTE: All submitted comments become the property of SBS. We reserve the right to edit and/or amend submitted comments. HTML tags other than paragraph, line break, bold or italics will be removed from your comment.
Featured Food & Recipes
Hot Tips
More
Tamarind
Tamarind is available in pods, blocks, or as a concentrate. To extract the most flavour, break off a piece of tamarind, wrap in foil and roast in the oven for a few minutes.
Glossary
More
Rice Flour
Rice flour can be used to thicken soups and stews, as well as providing an alternative to wheat flour in cakes and biscuits.