Fish stew from Dieppe recipe (marmite Dieppoise)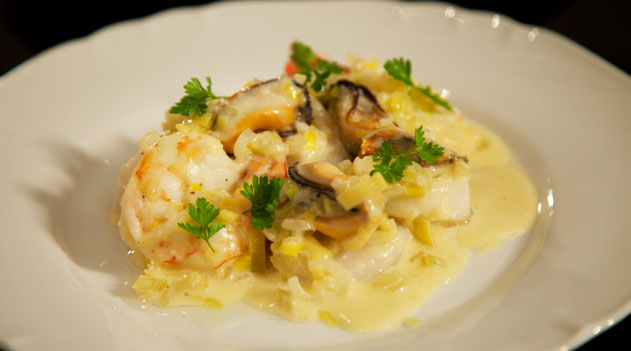 This fish stew is a superb Normandy classic and is relatively easy to make.
Ingredients
16 mussels, cleaned
30ml dry white wine
50g butter
1 leek, finely sliced
½ onion, finely chopped
1 stick of celery, diced
50ml dry apple cider
600g firm fish fillets, e.g. monkfish, flathead
8-12 prawns, shelled, deveined
12 scallops
100ml cream
Salt and freshly ground black pepper
12 sprigs of chervil
View conversion table
Preparation
Place the cleaned mussels in a pan with the dry white wine, cover with a lid and bring to the boil. The mussels will open after a few minutes. Shake the mussels around and when they are all open, strain the liquid into a bowl. Remove the mussels from the shells and place in the mussel juice.

Heat the butter in a wide pan over medium heat and cook the leeks, onion and celery for a few minutes until soft. Add the apple cider and bring to the boil. Place the fish fillets, prawns and scallops on top and add the mussel juice. Cover with baking paper and simmer for a few minutes until the fish is just cooked.

Lift the cooked fish and seafood onto warm plates or a warm dish.

Add the cream to the pan and bring to the boil, cooking until the sauce is thickish. Season with salt and pepper and stir in the mussels, reheating for a few seconds.

Garnish the fish and seafood with the sauce and mussels, top with sprigs of chervil and serve.
If you enjoyed this Fish stew from Dieppe recipe (marmite Dieppoise) then browse more French recipes, stew recipes, seafood recipes, easy recipes and our most popular hainanese chicken rice recipe.
French Restaurants
Displaying 10 of 470 French Restaurants.
PLEASE NOTE: All submitted comments become the property of SBS. We reserve the right to edit and/or amend submitted comments. HTML tags other than paragraph, line break, bold or italics will be removed from your comment.
Featured Food & Recipes
Hot Tips
More
Tenderising chickpeas
Adding a small amount of bicarbonate of soda to chickpeas when soaking will help to tenderise them.
Glossary
More
Portabello Mushroom
Flat dark open mushroom, good for roasting, baking and stuffing.