Rhubarb and raspberry gratin recipe (gratin à la rhubarbe et aux framboises)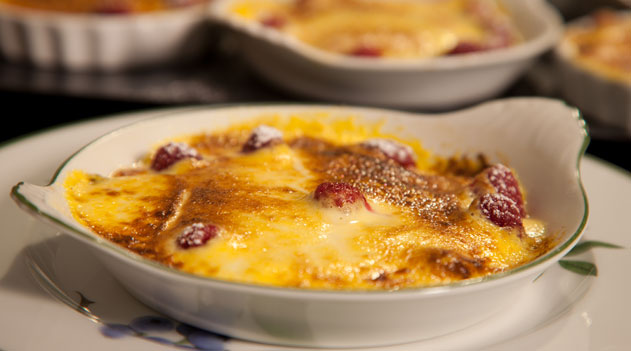 You need 6 buttered individual gratin dishes or a large gratin dish serving 6 people.
Ingredients
1kg rhubarb
50g melted butter
50g sugar
300g raspberries
2 tbsp orange juice
2 tbsp finely grated lemon zest
2 egg yolks
1 cup whipped cream
2 tbsp icing sugar
View conversion table
Preparation
Preheat the oven to 180°C.

Trim the rhubarb and peel the hard skin. Cut the rhubarb into 5-6cm pieces, about 1.5cm thick. Toss the rhubarb with the melted butter and then with the sugar.

Place the rhubarb neatly in an oven dish and bake in the preheated oven for about 10 minutes until the rhubarb is soft. Transfer the rhubarb to the buttered gratin dish and fill the gaps with a few raspberries.

Combine the orange juice, lemon zest and egg yolks in a bowl. Place the bowl over a saucepan of almost simmering water and whisk the yolks continuously until the preparation is creamy and light. It takes a few minutes.

Remove the bowl from the heat and gently fold in the whipped cream.

Spread the egg and cream mixture over the top of the fruit and dust with icing sugar.

Place under a hot grill and remove when the top is golden. Serve immediately.
If you enjoyed this Rhubarb and raspberry gratin recipe (gratin à la rhubarbe et aux framboises) then browse more French recipes, pizza, pie and tart recipes, dessert recipes, baking recipes and our most popular hainanese chicken rice recipe.
French Restaurants
Displaying 10 of 470 French Restaurants.
PLEASE NOTE: All submitted comments become the property of SBS. We reserve the right to edit and/or amend submitted comments. HTML tags other than paragraph, line break, bold or italics will be removed from your comment.
Featured Food & Recipes
Hot Tips
More
Keep your cool
If you've bitten off more chilli than you can handle, eating a small spoonful of sugar or adding a little to the dish should do the trick. Drinking water will actually make the situation worse! Cucumber, yoghurt or an ice-cold beer are also good rescue remedies.
Glossary
More
Latkes
Potato pancakes in the Eastern European (Ashkenazi) Jewish tradition.