Oysters in champagne sabayon recipe (huîtres au sabayon de champagne)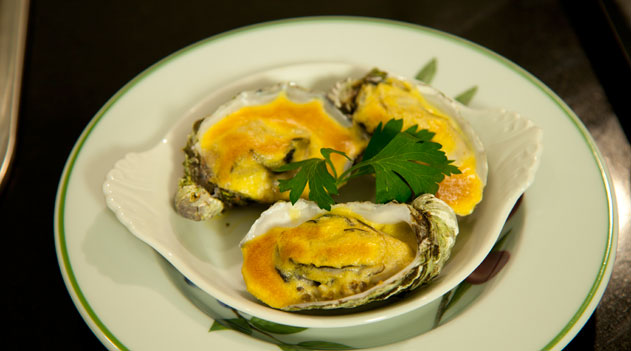 This is one of my favourite hot appetisers - perfect with a glass of champagne.
Ingredients
50g butter, melted
1 medium shallot, finely chopped
12 small mushrooms, finely chopped
Salt and freshly ground black pepper
12 freshly opened oysters
80ml champagne
2 egg yolks
View conversion table
Preparation
Heat 20g of the melted butter in a small pan. Stir in the shallots and cook over low heat for 2 minutes. Stir in the chopped mushrooms and cook, stirring occasionally, for about 10 minutes until most of the moisture has evaporated. Season with salt and pepper.

Preheat the oven to 250°C.

Remove the oysters from the shell and put the shells aside on an oven tray. Place the oysters in a small ovenproof pan with 50ml of the champagne and bring to a low simmer. Very gently stir in the oysters and turn off the heat.

Place the egg yolks in a bowl and mix with the remaining 30ml of champagne. Place the bowl over a bath of simmering water (bain-marie) and beat the yolks and champagne until light and fluffy. It takes a few minutes and the egg must not scramble.

Remove the bowl from the heat, slowly whisk in the remaining melted butter and season with salt and pepper.

Spoon a little mushroom purée into the 12 clean oyster shells. Top with a drained oyster, then coat the oysters with the champagne sauce. Place the oysters in the hot oven for a few minutes until the sauce has lightly browned. Serve immediately.
If you enjoyed this Oysters in champagne sabayon recipe (huîtres au sabayon de champagne) then browse more French recipes, appetiser recipes, seafood recipes, entertaining recipes and our most popular hainanese chicken rice recipe.
French Restaurants
Displaying 10 of 470 French Restaurants.
PLEASE NOTE: All submitted comments become the property of SBS. We reserve the right to edit and/or amend submitted comments. HTML tags other than paragraph, line break, bold or italics will be removed from your comment.
Featured Food & Recipes
Hot Tips
More
Saffron thread
Grind the saffron thread with some salt in a mortar and pestle until it is like a fine powder. It will be distributed through the paella evenly giving a better colour and flavour to the finished dish.
Glossary
More
Lemongrass
A main ingredient in Thai and Southeast Asian cuisines, lemon grass is a root that can be used fresh, dried or powdered to impart its lemon flavour to sweet or savoury dishes.