Veal and mushroom sauce and rösti recipe (veau sauté aux champignons et rösti)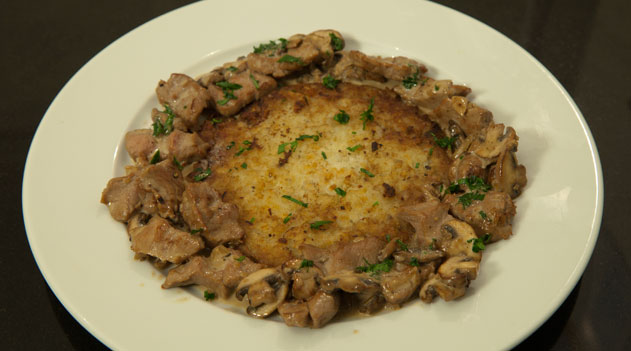 This classic Swiss dish is famous all around the world.
Ingredients
2 medium potatoes, boiled in the skin
1 brown onion, chopped
Salt and freshly ground black pepper
2 tbsp vegetable oil
60g butter
450g veal tenderloin, well-trimmed, finely sliced
250g Swiss brown mushrooms, sliced
50ml dry white wine
½ cup cream
3 tbsp chopped parsley
View conversion table
Preparation
Peel and grate the potatoes, mix with half the onion and season with salt and pepper.

In a medium non-stick pan heat half the oil and butter. Place 3 mounds of grated potato in the pan, pressing them down to form rösti (in the shape of a burger) about 1cm thick. Cook the first side for several minutes then very gently turn them over and cook the other side. Put aside and keep warm.

Heat the remaining oil and butter in a large non-stick pan and brown the veal over high heat for a short time. Transfer the veal to a plate.

Add the remaining chopped onion to the pan and stir for 1 minute. Add the mushrooms and cook for a few minutes. Add the white wine, bring to the boil and evaporate the wine a little. Stir in the cream, bring to the boil and boil for 1 minute. Season well with salt and pepper. Add the veal to the pan and reheat briefly.

Place the rösti in the centre of 3 plates and serve the veal and sauce around. Sprinkle with parsley and serve.
If you enjoyed this Veal and mushroom sauce and rösti recipe (veau sauté aux champignons et rösti) then browse more Swiss recipes, meat recipes, easy recipes, entertaining recipes and our most popular hainanese chicken rice recipe.
Swiss Restaurants
Displaying 7 of 7 Swiss Restaurants.
PLEASE NOTE: All submitted comments become the property of SBS. We reserve the right to edit and/or amend submitted comments. HTML tags other than paragraph, line break, bold or italics will be removed from your comment.
Featured Food & Recipes
Hot Tips
More
Resting meat
Never serve roasted meat straight out of the oven. Instead allow the meat to rest in a warm place, loosely covered with foil, for around 20 minutes, This will allow the juices to redistribute evenly among the meat, rather than escaping onto the plate when the meat is carved.
Glossary
More
Latkes
Potato pancakes in the Eastern European (Ashkenazi) Jewish tradition.