Savoy potato gratin recipe (gratin Savoyard)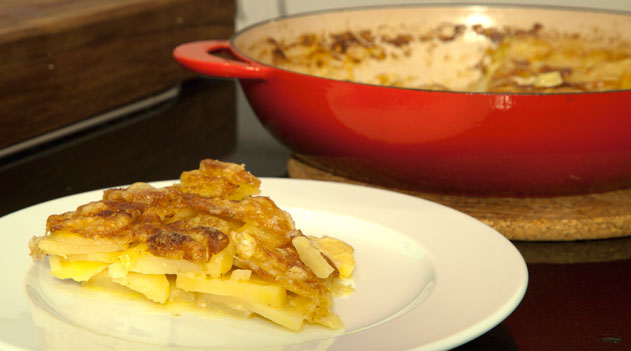 Cuisine:

French

Serves 6-8
Alpine families love this classic potato dish which is very easy to make and delicious. It's usually served at dinner with a salad or at Sunday lunch as part of a feast.
Ingredients
1.5kg potatoes (of regular shape)
Salt and freshly ground black pepper
Pinch of grated nutmeg
80g butter
150g Gruyère cheese, grated
150g Beaufort cheese, grated
1½ cups chicken stock
View conversion table
Preparation
Preheat the oven to 200°C.

Peel the potatoes, cut them into 3mm slices and place in a bowl with salt, pepper and a little grated nutmeg. Mix well together.

Generously butter a medium to large ovenproof gratin dish with one-third of the butter. Place half the potato slices neatly in the dish and top with the grated Gruyère cheese. Cover with the remaining potatoes, taking time to make a regular pattern with the slices. Sprinkle the Beaufort cheese on top and dot with knobs of the remaining butter.

Carefully add the chicken stock.

Bake in the preheated oven for 15 minutes, then lower the temperature to 150°C and cook for a further 45 minutes or until the potatoes are soft.
If you enjoyed this Savoy potato gratin recipe (gratin Savoyard) then browse more French recipes, side dish recipes, easy recipes, baking recipes, egg-free recipes and our most popular hainanese chicken rice recipe.
French Restaurants
Displaying 10 of 470 French Restaurants.
PLEASE NOTE: All submitted comments become the property of SBS. We reserve the right to edit and/or amend submitted comments. HTML tags other than paragraph, line break, bold or italics will be removed from your comment.
Featured Food & Recipes
Hot Tips
More
Cooking artichokes
Remove several layers of the bitter exterior leaves and trim remaining leaves before submerging and cooking artichokes in salted water for around 15 minutes (use a dinner plate on top of the artichokes to keep them under water). A thin skewer should meet little resistance when they are cooked.
Glossary
More
Oyster Mushrooms
An ear-like grey or greyish-brown bracket fungus that grows in clumps or clusters. Oyster mushrooms have a subtle flavour and are often used in Oriental cookery.