Beef cheek stew in Madiran wine recipe (estoufat de joue de boeuf au Madiran)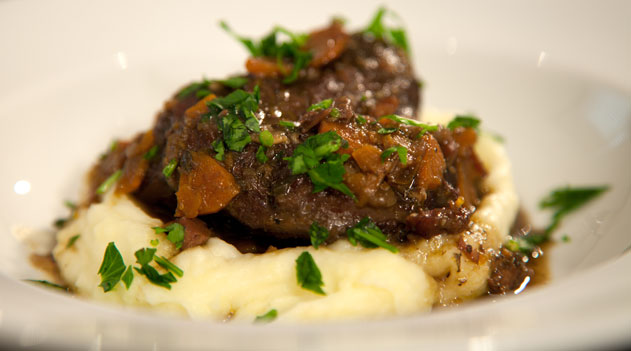 A wonderful winter dish to enjoy with the wine from Madiran or another robust red of your choice. It's lovely served with mashed potato.
Ingredients
½ brown onion, diced
2 rashers bacon, diced
3 garlic cloves, sliced
1 medium carrot, sliced
Salt and freshly ground black pepper
2 cloves
Pinch of cinnamon
Pinch of nutmeg
Thin slice of pork fat, about 15cm square (alternatively, use pieces of bacon fat)
3 trimmed beef cheeks
6 sprigs parsley, 2 sprigs thyme and 1 bay leaf, tied together with kitchen string
150ml Madiran red wine or other red wine
½ cup rich beef stock or broth
View conversion table
Preparation
Preheat the oven to 140°C.

In a bowl, mix together the onion, bacon, garlic, carrot salt, pepper, cloves, cinnamon and nutmeg.

Line the base of a medium ovenproof casserole dish with the pork fat. Top with half of the vegetable mix, then top with the beef cheeks. Add the bouquet garni of parsley, thyme and bay leaf, then sprinkle the remaining vegetables on top. Add the wine and beef stock, and cover with foil and a lid.

Bake in the preheated oven for about 3 hours or until very tender.

Serve with mashed potato.
If you enjoyed this Beef cheek stew in Madiran wine recipe (estoufat de joue de boeuf au Madiran) then browse more French recipes, stew recipes, meat recipes, easy recipes, baking recipes and our most popular hainanese chicken rice recipe.
French Restaurants
Displaying 10 of 470 French Restaurants.
PLEASE NOTE: All submitted comments become the property of SBS. We reserve the right to edit and/or amend submitted comments. HTML tags other than paragraph, line break, bold or italics will be removed from your comment.
Featured Food & Recipes
Hot Tips
More
Toasting spices
Toasting whole spices in a dry pan can help to bring out the essential oils and the flavour in the spice, however be careful to taste as you add the spice to your dish as the flavour will have changed and you may need less. Toasting pre-ground spices is a little trickier and it can ruin the flavour of the spice altogether.
Glossary
More
Babka
A sweet Polish yeast bread that commonly has almond and raisins. Other recent variations feature chocolate and cinnamon.