Lamb and bean stew recipe (pistache de mouton)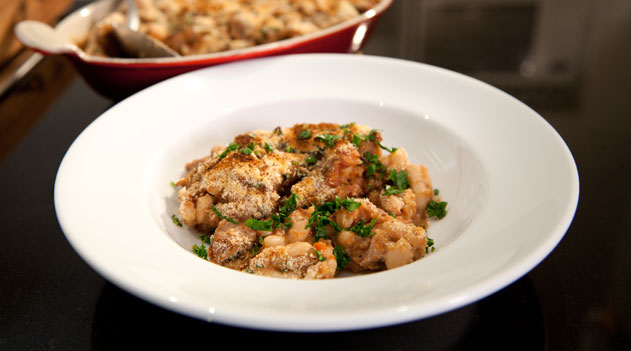 Cuisine:

French

Serves 4-6
This comforting winter dish is a very much loved family classic in the Pyrenees region.
Ingredients
20g butter
50g diced fatty bacon
3 sprigs thyme, chopped
12 pieces of lamb from the shoulder, each about 80g
1 small onion, diced
4 garlic cloves, crushed
1 bay leaf
Salt and freshly ground black pepper
60ml dry white wine
2 tomatoes, diced
400g cooked white beans, drained
4 tbsp chopped parsley
80g breadcrumbs
View conversion table
Preparation
Heat the butter and bacon in a wide heavy-based saucepan. Add the thyme and stir well. Add the lamb pieces and brown the lamb on all sides for a few minutes.

Add the onion, garlic and bay leaf and season with salt and pepper. Cook for 4-5 minutes to lightly brown the onion.

Add the wine, bring to the boil, then add the tomatoes. Cover with foil and a lid and cook over low heat for about 1½-2 hours until the meat is tender. Stir the stew a couple of times during the cooking to make sure it doesn't stick.

When the meat is cooked, add the beans. Stir gently and reheat for a few minutes. Transfer the stew to a wide gratin dish and sprinkle the top with the chopped parsley and breadcrumbs.

Place under a hot grill and leave for a few minutes until golden brown. Serve immediately but take care as it's very hot.
If you enjoyed this Lamb and bean stew recipe (pistache de mouton) then browse more French recipes, stew recipes, meat recipes, slow cooking recipes and our most popular hainanese chicken rice recipe.
French Restaurants
Displaying 10 of 470 French Restaurants.
PLEASE NOTE: All submitted comments become the property of SBS. We reserve the right to edit and/or amend submitted comments. HTML tags other than paragraph, line break, bold or italics will be removed from your comment.
Featured Food & Recipes
Hot Tips
More
Black Forest Cake
A pinch of salt in the chocolate, custard mousse mixture will bring out the flavour of the chocolate
Glossary
More
Eggnets
A simple "net" made by drizzling egg across a skillet or griddle in a net-like pattern. The Eggnets can then be rolled around any kind of sweet or savoury filling.