Cherry and hazelnut cake recipe (gâteau aux cerises et aux noisettes)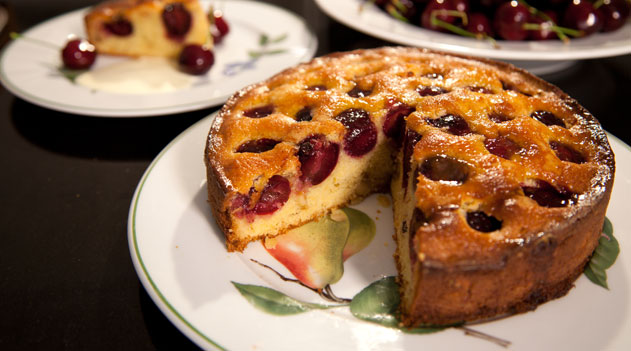 You need a well-buttered and floured 22cm lift-out cake tin.
Ingredients
150g butter, cut into small pieces
150g caster sugar
Zest of 1 lemon, finely grated
3 eggs
150g self-raising flour
50g almond meal
80g skinned, roasted hazelnuts, crushed into 2-3 pieces
30 large cherries, pitted
2 tbsp caster sugar, for dusting
2 tbsp smooth apricot jam
View conversion table
Preparation
Preheat the oven to 180°C.

Using an electric beater, cream the butter, sugar and lemon zest for a few minutes.

Add 1 egg at a time and beat well. Then on low speed carefully add the self-raising flour, almond meal and roasted hazelnut pieces, beating until just mixed.

Carefully pour the mixture into the prepared tin and flatten the top. Top with the pitted cherries, keeping them about 1cm away from the sides of the tin and pressing them about ½cm down into the mixture. Dust the top with the extra caster sugar.

Bake in the preheated oven for about 50 minutes until the cake is cooked.

Remove the cake from the oven and rest it for 15 minutes before carefully turning it out. Brush the top of the cake with the reheated jam and allow the cake to cool before serving.

It's nice served with cream or ice-cream.
If you enjoyed this Cherry and hazelnut cake recipe (gâteau aux cerises et aux noisettes) then browse more French recipes, dessert recipes, cake recipes, baking recipes and our most popular hainanese chicken rice recipe.
French Restaurants
Displaying 10 of 470 French Restaurants.
PLEASE NOTE: All submitted comments become the property of SBS. We reserve the right to edit and/or amend submitted comments. HTML tags other than paragraph, line break, bold or italics will be removed from your comment.
Featured Food & Recipes
Hot Tips
More
Creme Caramel
When making the caramel for Creme Caramel, put the water into the saucepan first then pour sugar into the centre of the water, not at the edges. This will prevent crystals forming.
Glossary
More
Pashka
A traditional Russian dessert for celebrating Easter. Made from curd cheese, cream, almonds, chocolate and dried fruit