French toasted brioche recipe (brioche perdue)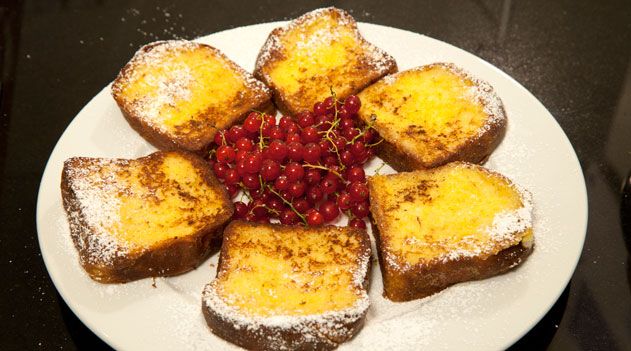 This French family classic was traditionally made with day-old bread but now it's often made with brioche as a breakfast treat. It's nice served with red fruits.
Ingredients
1 cup milk
50g caster sugar
½ vanilla pod, cut open
1 egg
Piece of a brioche loaf, about 12cm long
50g butter
Icing sugar, for dusting
Ground cinnamon, for dusting
View conversion table
Preparation
Place the milk, 30g of the caster sugar and the vanilla pod in a small pan. Bring to a simmer, then transfer to a wide dish to cool.

Beat the egg with the remaining 20g sugar.

Cut the brioche into 6 thick slices. Briefly dip each slice in the cold milk then lightly coat with the egg mix.

Heat the butter in a large frying pan and cook the brioche on each side until golden brown.

Dust the brioche generously with icing sugar and dust with a little cinnamon. Serve immediately on its own or with red fruits.
If you enjoyed this French toasted brioche recipe (brioche perdue) then browse more French recipes, bread recipes, breakfast recipes, easy recipes, quick recipes and our most popular hainanese chicken rice recipe.
French Restaurants
Displaying 10 of 470 French Restaurants.
PLEASE NOTE: All submitted comments become the property of SBS. We reserve the right to edit and/or amend submitted comments. HTML tags other than paragraph, line break, bold or italics will be removed from your comment.
Featured Food & Recipes
Hot Tips
More
Chilli
Chilli is an addictive spice, start out by using less hot varieties and remove the seeds before using.
Glossary
More
Kecap Asin
A salty dark soy sauce used in Indonesia, a little thicker than the Chinese soy sauce.