Roast rack of lamb with spring vegetables recipe (carré d'agneau rôti aux légumes printaniers)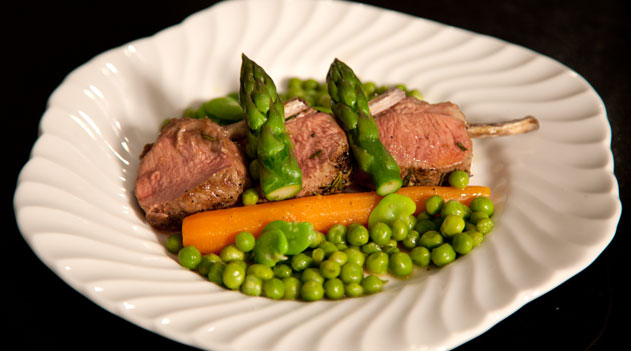 This lovely dinner party dish is made magic by the flavour of tarragon in the spring vegetables.
Ingredients
2 racks of lamb, each with 3 cutlets, trimmed of fat
2 tbsp extra virgin olive oil
Freshly ground black pepper
1 tbsp finely sliced rosemary leaves
100g broad beans, removed from the pods
4 baby carrots, peeled
½ cup shelled peas
Tips of 4 fat asparagus spears (about 6cm)
20g butter
8 tarragon leaves
Salt
View conversion table
Preparation
Brush the racks of lamb with a little olive oil and season with pepper and rosemary leaves.

Preheat the oven to 150°C.

Heat a small ovenproof pan and brown the lamb racks for 1 minute. Then bake the racks in the preheated oven for about 10 minutes.

Remove the pan from the oven, cover the meat with foil and rest for 10 minutes before carving.

Drop the broad beans in a saucepan of boiling water and cook for 1 minute. Lift the broad beans out of the water into a bowl of cold water.

Add the baby carrots to the boiling water and cook for 2 minutes. Leaving the carrots in the pan, add the peas, cook for 5 minutes, then add the asparagus. Cook the vegetables for a further 2 minutes then drain and transfer them to a pan.

Add the peeled broad beans, the butter and tarragon leaves and season with a little salt and pepper.

Serve the lamb on a bed of lightly reheated vegetables.
If you enjoyed this Roast rack of lamb with spring vegetables recipe (carré d'agneau rôti aux légumes printaniers) then browse more French recipes, meat recipes, entertaining recipes, baking recipes and our most popular hainanese chicken rice recipe.
French Restaurants
Displaying 10 of 470 French Restaurants.
PLEASE NOTE: All submitted comments become the property of SBS. We reserve the right to edit and/or amend submitted comments. HTML tags other than paragraph, line break, bold or italics will be removed from your comment.
Featured Food & Recipes
Hot Tips
More
Bread crumbs
You can easily turn unused bread into breadcrumbs. Lightly dry the bread in a moderate oven and then pulse in a food processor until desired coarseness. Do not use stale bread as this will result in stale tasting bread crumbs.
Glossary
More
Moussaka
A dish from Greece, Turkey and the Balkans, made of layers of lamb, slices of aubergine, potatoes and onions and covered with white sauce and cheese.