Steamed fish stuffed with beef and vegetables recipe (eosun)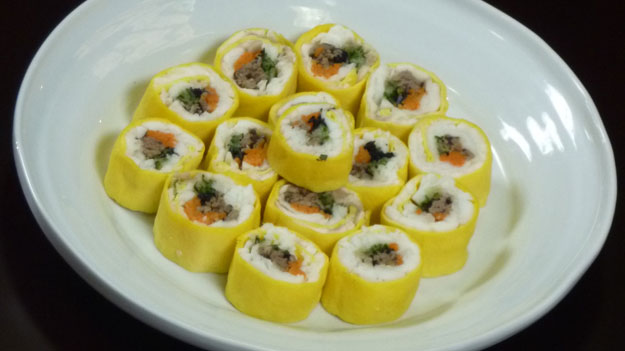 Cuisine:

Korean

Prep Time: 20 min(s)
Cook Time: 20 min(s)

Serves 4
When fish meets beef – this royal Korean cuisine is called "eosun" which means "steamed fish with beef and assorted vegetables rolled in an egg wrap". It is a healthy, colourful and delicious dish for special occasions.

Special thanks to Han Bok-ryeo, president of the Institute of Korean Royal Cuisine, and Arirang TV, Korea.

Ingredients
300g white fish
Salt and pepper
80g beef, top round, cut into julienne
2 medium shiitake mushrooms
3 eggs
3 wood ear mushrooms
50g carrots, cut into julienne
½ cucumber, cut into julienne
3 tbsp corn starch
Marinade
1 tbsp soy sauce
½ tbsp sugar
2 tsp green onion, (white part only), finely chopped
1 tsp minced garlic
1 tsp sesame oil
1 tsp sesame salt
Pinch of black pepper
Mustard sauce
½ tbsp mustard
3 tbsp soy sauce
1-1½ tbsp vinegar
½ tbsp water
View conversion table
Preparation
Slice the white fish thinly and sprinkle with salt and pepper.

Soak the dried mushrooms in water. Remove the stems and julienne. Season the beef and mushroom with the marinade and sauté in a hot oiled pan. Let it cool on a large plate.

Beat the eggs and add salt. Fry them into 3 sheets and julienne one of the sheets.

Soak the wood ear mushroom in warm water and rub. Remove the black membrane and julienne. Blanch, drain and season with salt and sesame oil.

Sprinkle the carrots and cucumber with salt separately and let them stand. Squeeze the water out from each one and sauté lightly. Let them cool.

On a bamboo blind, place the egg sheet and sprinkle with corn starch. Place the white fish into the square. Place the beef, mushrooms, cucumber, carrots, and egg in the middle and wrap the bamboo blind firmly. Wrap them in a soaked cheesecloth and steam for 10 minutes.

When the white fish is cooked, let them cool. Cut into 1.5cm pieces and arrange them on a plate. Serve with the mustard sauce.

If you enjoyed this Steamed fish stuffed with beef and vegetables recipe (eosun) then browse more Korean recipes, meat recipes, seafood recipes, entertaining recipes, healthy recipes and our most popular hainanese chicken rice recipe.
Korean Restaurants
Displaying 10 of 89 Korean Restaurants.
PLEASE NOTE: All submitted comments become the property of SBS. We reserve the right to edit and/or amend submitted comments. HTML tags other than paragraph, line break, bold or italics will be removed from your comment.
Featured Food & Recipes
Hot Tips
More
Light olive oil
Olive oil can be labeled as "light" however don't be fooled to thinking this means it is light in calories. The "light" label refers to the oil being light on taste or colour - not on fat.
Glossary
More
Bonito
Bonito is an oily fish and is prepared in the same way as tuna. It is a large fish and comes from the same family as tuna and mackerel.