Stir-fried rice cake in soy sauce recipe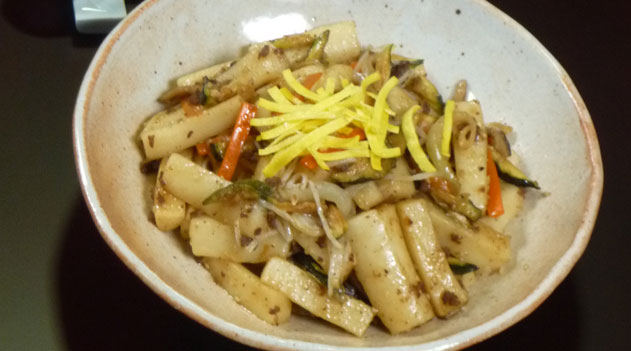 Cuisine:

Korean

Prep Time: 15 min(s)
Cook Time: 10 min(s)

Serves 4
There are two kinds of stir-fried rice cake recipes: chilli-paste based, and soy sauce based. Long ago, the latter variety was exclusively prepared for Korean royalty. Also, bean sprouts, which are thought to reduce a fever, were often used in Korean royal cuisine.

Special thanks to Han Bok-ryeo, president of the Institute of Korean Royal Cuisine, and Arirang TV, Korea.

Ingredients
250g Korean rice cake (white, cylinder shape, 4-5cm each)
½ tsp sesame oil
½ tsp soy sauce
80g bean sprouts
20g carrots, julienne
1 tbsp oil
50g onions, sliced
1 mushroom, halved
1 zucchini, sliced into 5 pieces
30g beef
Thinly sliced omelette, to garnish
Marinade
2/3 tbsp soy sauce
1tsp sugar
1tsp chopped onions
½ tsp chopped garlic
1tsp sesame oil
1tsp roasted sesame salt
Pinch of pepper
View conversion table
Preparation
To prepare the rice cake, blanch lightly in boiling water until al dente. Season with sesame oil and soy sauce. Set aside.

Blanch the bean sprouts and carrot in a saucepan of boiling salted water.

In a frypan, heat the oil. Stir-fry the onion for 2 minutes.

Season the zucchini with salt, soy sauce, chopped garlic, sesame oil and onions. Stir-fry for 2-3 minutes.

Stir-fry the marinated beef and mushroom in a heated pan, and then add the prepared rice cake, bean sprouts, carrot, onion and zucchini to the pan.

Taste and season with soy sauce, sugar, sesame oil for your liking.

Arrange on a serving plate. Top with the omelette slices.

If you enjoyed this Stir-fried rice cake in soy sauce recipe then browse more Korean recipes, stir-fry recipes, entertaining recipes, quick recipes and our most popular hainanese chicken rice recipe.
Korean Restaurants
Displaying 10 of 89 Korean Restaurants.
PLEASE NOTE: All submitted comments become the property of SBS. We reserve the right to edit and/or amend submitted comments. HTML tags other than paragraph, line break, bold or italics will be removed from your comment.
Featured Food & Recipes
Hot Tips
More
Rice-eating etiquette
While spoons and chopsticks are used to eat Lao soups, wet dishes and noodles, the custom when eating sticky rice is to use only the fingers and palm of the right hand. It is also customary to replace the lid of the rice basket when you are finished.
Glossary
More
Flaxseed Oil
A therapeutic oil high in Omega-3 fatty acids, made from the seeds of the flax plant.