Spanner crab kinilaw recipe
Created by
Peter Kuruvita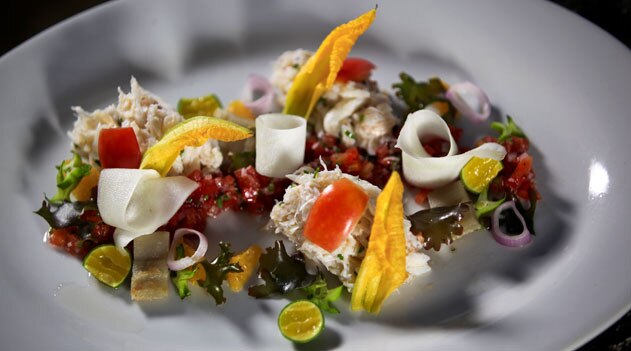 Cuisine:

Filipino

Serves 4
Ingredients
Spanner crab salad
200g spanner crab meat, picked through for any shell
½ bunch of baby shallots, green part only, finely chopped
Juice of 1 mandarin
50ml extra virgin olive oil
Tomato concasse
6 ripe tomatoes, peeled, seeded and finely diced
½ bunch baby shallots, sliced
Olive oil
Juice of ½ lime
Chilli vinaigrette
1 medium green chilli, seeded and diced
2 eschallots, finely diced
1 tsp brown sugar
100ml cane vinegar
100ml extra virgin olive oil
2 small mandarins, segmented
50g fresh seaweed or wakame
2 wing beans, sliced
4 zucchini flowers, torn into petals
1 Lebanese cucumber, thinly sliced
200g freshly grated coconut
View conversion table
Preparation
For the spanner crab salad, combine all the ingredients in a bowl. Refrigerate until needed.

For the tomato concasse, combine all the ingredients in a bowl and set aside.

For the chilli vinaigrette, place all the ingredients in a bowl. Stir until the sugar dissolves, then set aside.

To assemble, using two tablespoons, shape the crab salad into quenelles and place in an S shape on a large white plate. Sprinkle the tomato concasse, mandarin segments, seaweed, wing beans and torn zucchini petals around the plate. Toss the cucumber in the vinaigrette, then place the slices on top of the concasse. Drizzle the whole plate with a little vinaigrette. Scatter with coconut and serve immediately.

If you enjoyed this Spanner crab kinilaw recipe then browse more Filipino recipes, seafood recipes, entertaining recipes, healthy recipes, valentine's day recipes and our most popular hainanese chicken rice recipe.
Filipino Restaurants
Displaying 2 of 2 Filipino Restaurants.
PLEASE NOTE: All submitted comments become the property of SBS. We reserve the right to edit and/or amend submitted comments. HTML tags other than paragraph, line break, bold or italics will be removed from your comment.
Featured Food & Recipes
Hot Tips
More
Black Forest Cake
A pinch of salt in the chocolate, custard mousse mixture will bring out the flavour of the chocolate
Glossary
More
Legumes
The family of beans, peas, and lentils.