Spanish-style longanisa, crispy pork belly and garlic breadcrumbs recipe
Created by
Peter Kuruvita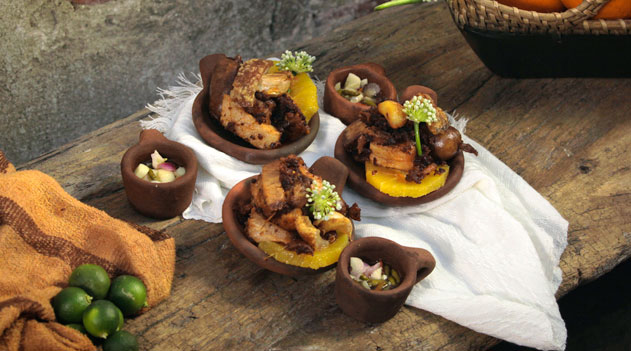 Cuisine:

Filipino

Serves 12
Ingredients
500g crusty bread, torn into large chunks
200g cooked pork belly with crackling (see note)
10 raw Longanisa sausage, or Spanish chorizo
125ml (½ cup) olive oil
6 cloves garlic, unpeeled
1 tbs smoked paprika
Salt and pepper, to taste
2 oranges, peeled and sliced
Chive flowers and chopped parsley, to serve
Chilli vinegar
100ml Suka Iloko (sugar cane vinegar)
3 red or green birds eye chillies, finely chopped
1 small onion, finely chopped
1 clove garlic, thinly sliced
View conversion table
Preparation
Place the torn bread into a sealable container. Add a pinch of salt. Pour 125ml (½ cup) water over the bread. Cover and shake, then refrigerate overnight.

Remove the crackling from the pork and reserve. Cut the meat into 1cm-thick slices.

For the chilli vinegar, combine all the ingredients in a small bowl. Set aside.

Place the longanisa sausage and 250ml (1 cup) water into a heavy-based frying pan. Cook over high heat until the water has evaporated and the sausages start to cook in their own oil. Reduce the heat to low and continue cooking until the longanisa has a nice golden colour. Remove from the pan with a slotted spoon, reserving the oil in the pan.

Add the pork to the pan and cook over high heat for 2 minutes or until golden, then remove from the pan and set aside. Reduce heat to medium, then add the olive oil and unpeeled garlic cloves to the pan. Cook until the cloves are soft inside and the skin is golden. Remove the cloves from the pan and set aside.

Drain the bread and squeeze in your hands to remove the excess water. Add this to the pan and stir until golden and crunchy. Add the paprika, pork, Longanisa and garlic. Season to taste and stir until heated through. Serve with a slice of orange, a piece of crushed crackling and a sprinkling of chopped chive flowers and parsley. Serve with the chilli vinegar on the side.

Note To cook the pork belly, place the meat in a bamboo steamer, covered, over a wok of boiling water for 30 minutes. Remove and, while the belly is still hot, lightly score the skin at 1cm intervals using a sharp knife, then rub salt into the score marks. Place the belly on foil, folding the sides up to the skin, leaving the skin uncovered. Place into a deep tray and add water until the belly is half submerged. Roast for 30 minutes at 240°C (fan-forced) or until the skin is crisp and crackling.

If you enjoyed this Spanish-style longanisa, crispy pork belly and garlic breadcrumbs recipe then browse more Filipino recipes, meat recipes, entertaining recipes, prepare ingredients in advance recipes and our most popular hainanese chicken rice recipe.
Filipino Restaurants
Displaying 2 of 2 Filipino Restaurants.
PLEASE NOTE: All submitted comments become the property of SBS. We reserve the right to edit and/or amend submitted comments. HTML tags other than paragraph, line break, bold or italics will be removed from your comment.
Featured Food & Recipes
Hot Tips
More
Lebanese dip
For a quick Lebanese dip mix tahini with natural yoghurt, crushed garlic, salt and lemon juice. Mix together until thickened and serve with flat bread. (courtesy of Greg Malouf).
Glossary
More
Pasilla Chillies
Pasilla (dried and pronounced pah_SEE-ya) is a mild to medium hot chilli.