Filipino salad with tinawon rice recipe
Created by
Peter Kuruvita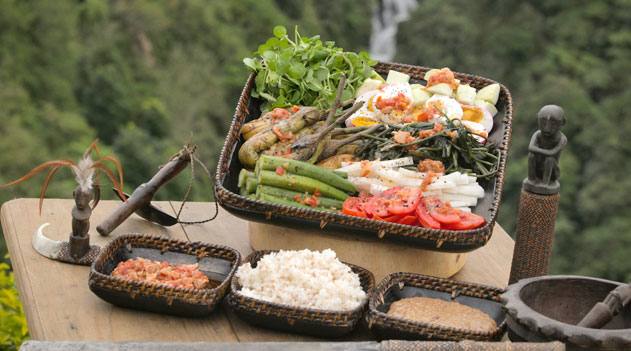 Cuisine:

Filipino

Serves 6
Ingredients
200g okra, washed and trimmed
250g sweet potato tops, leaves picked
250g kang kung (see note), leaves picked
600g eggplant, washed and trimmed
400g white radish, peeled and cut into 1 x 5cm sticks
300g green mango, peeled and cut into 1cm pieces
250g ripe tomatoes, peeled, seeded and cut into petals
2 salted duck eggs or hard-boiled eggs, peeled and sliced
Sautéed shrimp paste dressing
50ml vegetable oil
4 cloves garlic, crushed
80g white onion, finely chopped
120g pork belly with fat, cut into 5cm pieces
350g tomatoes, seeded and chopped
60g fermented shrimp paste
3 red birds eye chillies, chopped
1 tsp sugar
Peanut sauce
100ml peanut oil
200g raw peanuts
2 cloves garlic
4 golden eschallots, chopped
1 tsp terasi (shrimp paste)
½ tsp chilli powder
2 tsp brown sugar
1 tbs dark soy sauce
1 tbs tamarind water (see note)
View conversion table
Preparation
For the sautéed shrimp paste dressing, heat the oil in a wok over medium heat. Add the garlic and onions and cook for 5-6 minutes or until soft. Add the pork, and cook, stirring continuously, for 5 minutes or until cooked. Add the tomatoes and cook for a further 5 minutes or until mushy. Add the fermented shrimp paste, reduce the heat to low and stir for 5 minutes. Stir in the sugar, remove from the heat and cool to room temperature.

For the peanut sauce, heat the oil in a wok over medium heat. Fry the peanuts until golden. Remove with a slotted spoon and drain on paper towel. Once cool, grind the peanuts in a mortar and pestle or electric blender until finely chopped. Crush the garlic, eschallots and shrimp paste in a mortar and pestle until smooth. When the oil is safe to move, remove all but 1 teaspoon from the wok and place over medium heat. When hot, add the garlic and shrimp mixture and stir for 2 minutes or until fragrant. Add the chilli, sugar, soy sauce, tamarind water, 500ml (2 cups) water and peanuts and bring to the boil. Reduce heat to low and simmer for 8-10 minutes or until the sauce has thickened. Remove from heat and serve warm.

Steam the okra, sweet potato tops and kang kung for 3 minutes, then plunge into ice water to refresh and drain.

Grill the eggplants over an open wood or coal fire until blackened and charred all over. When cool enough to handle, peel and discard blackened skin.

To serve, place all the vegetables and the egg on a large serving platter. Serve the sauces separately, for dipping.

Note To make tamarind water, place 50g tamarind paste in a heatproof bowl and pour over 150ml boiling water. Allow to cool, then mix together to combine well. Strain the mixture through a fine strainer, extracting as much liquid as possible, then discard the solids.

Even though most people use rice cookers nowadays, it's good to know a foolproof way of cooking rice without one. I have found that if you measure your middle finger, with most adults the distance between the first joint and the end of the finger is relatively the same. This first joint is your very portable water gauge.

Take the amount of raw rice you require and wash it thoroughly in cool water only once.
Rice is so highly polished these days that if you wash it any more you will wash away any goodness left. If you are cooking this in Asia then it may need to wash two or three times, depending on where you bought it and how well the rice has been husked. You may also have to remove any stones or other foreign matter that has found its way into your rice.

Now, flatten the washed rice in the bottom of a large pot and add water until it reaches from the top of the rice to the first joint of your middle finger. For brown rice, add a little more.

Bring this to the boil, uncovered and salted, and cook on a high heat until you can see the top of the rice and the water has evaporated to that level. Turn the stove to your lowest setting. If you are using electric cookers, then have the hot plate next to it on the lowest setting ready to go, and transfer it, covered, to steam for about 10 minutes. Do not stir it or open the lid, as it will naturally steam and cook the rice so it's fluffy and dry.

Once cooked, remove the lid and, using the handle of a wooden spoon, fluff the rice and cover it until you need it.



Note

Kang Kung, also known as water spinach, is a leafy vegetable readily available from Asian grocers. The leaves have a mild flavour and add a vibrant green colour to dishes.

If you enjoyed this Filipino salad with tinawon rice recipe then browse more Filipino recipes, rice recipes, entertaining recipes and our most popular hainanese chicken rice recipe.
Filipino Restaurants
Displaying 2 of 2 Filipino Restaurants.
PLEASE NOTE: All submitted comments become the property of SBS. We reserve the right to edit and/or amend submitted comments. HTML tags other than paragraph, line break, bold or italics will be removed from your comment.
Featured Food & Recipes
Hot Tips
More
Baking powder vs baking soda
You can substitute baking soda for baking powder (but not vice versa) with the addition of cream of tartar. Simply mix two parts cream of tartar with one part baking soda.
Glossary
More
Bok Choi / Pak Choi
A leafy-green Chinese vegetable belonging to the cabbage family. It is best suited to brief stir-frying or steaming to keep its mild flavour.