Perfect grilled salmon recipe
Created by
Peter Kuruvita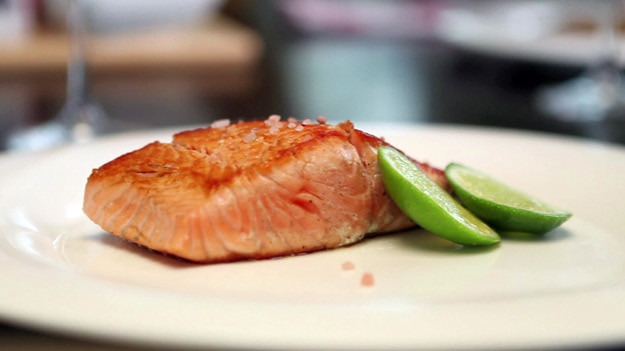 Cuisine:

Modern Australian
Salmon is one of the most popular species of fish in Australia at the moment, and there are so many different opinions on the best method of grilling. Follow the instructions below and you won't be disappointed.
Ingredients
1 x 180g salmon fillet (per person)
Coarse salt
Olive oil
View conversion table
Preparation
Turn the barbecue grill plate on to high and sprinkle with salt. This will increase the conductivity of heat. Apply a drizzle of oil over the salt.

Once the oil begins to smoke, the grill is ready. Reduce heat to medium.

Place the salmon fillet on the grill, presentation-side down (the side which will face up on the plate when served). Be sure to lay the fillet down away from your body, as shown in the video, to avoid any hot oil splashing toward you.

As the salmon begins to cook, a white line of cooked flesh will creep up the side of the fillet. For a perfect medium-rare result, turn the fish when the white line has risen approximately one third of the way through the fillet.

Continue grilling until the white line on the other side has risen approximately one third of the way through the fillet.

If you are concerned about overcooking the thinner part of the fillet, position the fillet on the edge of the barbecue with the thin portion of the fish hanging over the edge. This will stop the thin portion from continuing to cook while allowing the thicker portion to continue.

If you enjoyed this Perfect grilled salmon recipe then browse more Modern Australian recipes, seafood recipes, summer christmas feast recipes, easy recipes and our most popular hainanese chicken rice recipe.
Modern Australian Restaurants
Displaying 10 of 601 Modern Australian Restaurants.
PLEASE NOTE: All submitted comments become the property of SBS. We reserve the right to edit and/or amend submitted comments. HTML tags other than paragraph, line break, bold or italics will be removed from your comment.
Featured Food & Recipes
Hot Tips
More
Kibbeh Nayeh
For this raw meat dish, make sure the mince is very fresh with a bright pink colour, and contains little to no fat. To achieve the very fine mince the meat should be put through a mincer two or three times.
Glossary
More
Dried Prawns
Known as camarao seco in Brazilian cooking. Tinely blended to a powder or soaked and ground, these tiny sun-dried prawns add a great depth of flavour to Bahian dishes such as xinxim de galinha.