Peter's perfect sambal recipe
Created by
Peter Kuruvita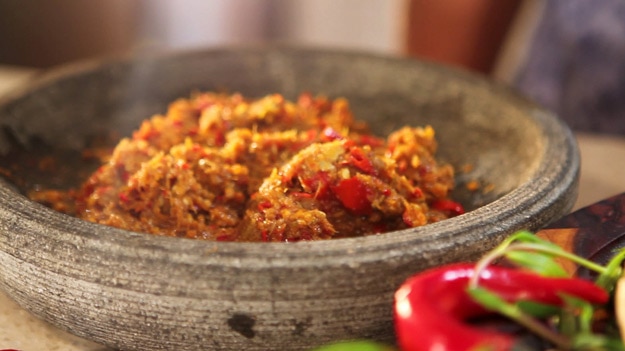 Sambal is such a versatile accompaniment and, when you try this recipe, I'm sure you'll never use store-bought sambal again. Stored in the fridge, this will keep for several weeks.

Ingredients
6-8 fresh chillies
1x 2cm piece of ginger
2 cloves of garlic
1 lemongrass root, finely chopped
Zest of 1 lime
50ml white vinegar
Coarse salt
½ cup white sugar
View conversion table
Preparation
Chop the ginger, garlic and lemongrass into the mortar and add the chillies and half of the lime zest, keeping the other half aside for later.

Crush the ingredients together in the mortar. Gradually add the vinegar.

Add a pinch of salt and continue pounding. The salt will assist to break down the other ingredients.

Taste the mix to ensure you are happy with the combination of sweet, sour, salty and hot flavours. Add additional amounts of the ingredients as required to balance the taste to your liking.

Add the mix to a cold pan. Place the pan over high heat. Be careful not to let the flame come up around the sides of the pan (this will burn the edges).

Mix the sambal with a wooden spoon as it heats.

Add the sugar. This will caramelise the mix and bring the flavours together.

Cook, over medium heat, for 10 minutes or until the mixture is pulpy.

When the mix is almost done, add the remaining lime zest. Cook for a further 90 seconds.

Serve the sambal hot or cold, as an accompaniment to just about any dish.



Note: You'll need a good mortar and pestle, which are widely available – you can also buy one from

Peter's website

.
If you enjoyed this Peter's perfect sambal recipe then browse more Indonesian recipes, side dish recipes and our most popular hainanese chicken rice recipe.
Indonesian Restaurants
Displaying 10 of 71 Indonesian Restaurants.
Comments (9)
Previous
Page 1
|
2
Next
PLEASE NOTE: All submitted comments become the property of SBS. We reserve the right to edit and/or amend submitted comments. HTML tags other than paragraph, line break, bold or italics will be removed from your comment.
Featured Food & Recipes
Hot Tips
More
Spices
Use dried spices quickly and discard after a few weeks. Chef Peter Kuruvita says you can't make a good curry with ancient spices and believes many Australians have dried spices older than their children!
Glossary
More
Champignon De Paris
Button mushrooms used raw in French cooking in salads and classic dishes like boeuf bourguignon.