Beef with sautéed mushrooms and bitter melon recipe
Created by
Peter Kuruvita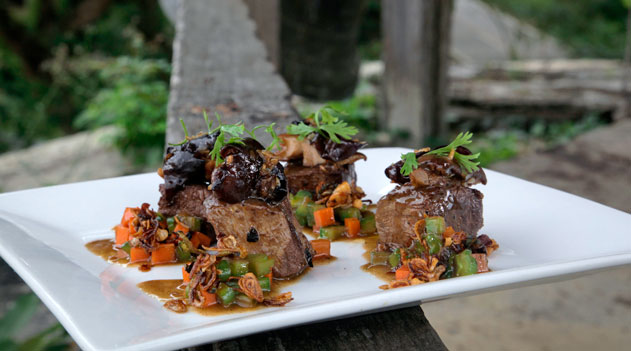 Cuisine:

Filipino

Serves 6
Ingredients
1.2kg trimmed sirloin, cut into 50g pieces
Salt and cracked black pepper, to taste
3 litres beef stock
100g butter
100ml olive oil
6 cloves garlic, crushed with a large pinch of salt
150g golden eschalots, finely diced
50g fresh shiitake mushrooms, trimmed
40g wood-ear mushrooms
2 tbs Mexican spices
100ml red wine
2 Ampalaya (bitter melons), halved lengthways, seed and pith removed, cut into small squares
2 medium carrots, peeled, cut into small squares, tops reserved
Garnish
200ml vegetable oil
4 cloves garlic, thinly sliced
4 eschalots, thinly sliced
½ bitter melon, seeds and pith removed, thinly sliced
View conversion table
Preparation
Preheat the oven to 140°C.

Trim the beef, then rub with salt and pepper. Place in a heavy-based casserole dish with the stock. Bring to a gentle boil. Cook, covered, in preheated oven for 3 hours or until very tender. Remove the beef with a slotted spoon and set aside.

Skim the cooking liquid and simmer over low heat until the stock has reduced by three-quarters.

Meanwhile, for the garnishes, heat the oil in a shallow frying pan to 160°C. Cook the garlic, eschalots and bitter melon separately, until golden and crisp. Drain on paper towel and set aside.

Place half the butter and the olive oil in a heavy-based frying pan over medium-high heat. When the butter goes frothy and starts to brown, add the garlic and eschalots. Stir for a few seconds, then add the mushrooms and stir-fry for 3 minutes. Remove the pan from the heat. Pour the mushrooms into a sieve placed over a bowl, and then return the strained oil to the pan over medium-high heat. When hot, dust the beef in the Mexican spices and cook until golden all over.

Add the red wine to the pan and simmer until reduced by half. Remove the beef with a slotted spoon and set aside. Add 150ml of the stock to the pan and simmer until reduced by half. Add the bitter melon, carrot and the remaining butter. Reduce the heat to very low. Shake the pan so all the butter is incorporated into the sauce.

To serve, arrange the beef on a plate and top with mushrooms. Spoon over some of the eschalots and garlic it was cooked in. Place a spoonful of the bitter melon and carrot sauce at the base of each piece of beef. Sprinkle the fried onion, garlic and bitter melon chips around the plate. Top each piece of beef with a carrot top and serve immediately.

If you enjoyed this Beef with sautéed mushrooms and bitter melon recipe then browse more Filipino recipes, meat recipes, entertaining recipes, baking recipes and our most popular hainanese chicken rice recipe.
Filipino Restaurants
Displaying 2 of 2 Filipino Restaurants.
PLEASE NOTE: All submitted comments become the property of SBS. We reserve the right to edit and/or amend submitted comments. HTML tags other than paragraph, line break, bold or italics will be removed from your comment.
Featured Food & Recipes
Hot Tips
More
Festive occasions
Many of Poland's religious holidays involve long observed fasts, including Easter and Christmas. Christmas Eve is a day of fasting, which is broken by a dinner called the Wigilia. Traditionally, this special meal is not eaten until a member of the family, usually a child, spots the first evening star in the winter sky.
Glossary
More
Vegetable shortening
A vegetarian alternative to lard often used in baking and when basting meat.