Barbecue pork belly skewers recipe
Created by
Peter Kuruvita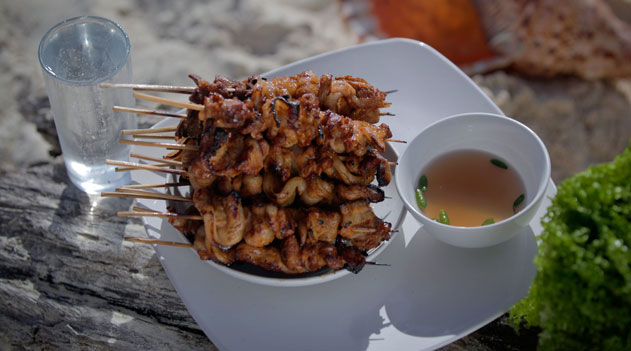 Cuisine:

Filipino

Serves 6
Ingredients
1kg pork belly
250ml (1 cup) soy sauce
1 head garlic, peeled and minced
1 onion, finely chopped
60ml (¼ cup) Calamansi juice or lemon juice
1 tsp ground black pepper
3 tbs brown or white sugar
125ml (½ cup) banana or tomato ketchup
125ml (½ cup) lemonade or beer (optional)
20 bamboo skewers, soaked in water for 30 minutes
View conversion table
Preparation
Cut the pork into long thin slices, about 5mm thick and 5cm wide.

In a large bowl, combine the pork, soy sauce, garlic, onion, Calamansi juice, pepper, sugar, banana ketchup and the lemonade or beer (this tenderises and adds flavour to the pork). Cover and refrigerate for at least 30 minutes, turning occasionally.

Thread the pork strips onto the soaked bamboo skewers, reserving the marinade.

Cook the skewers over live charcoals, turning and basting with the reserved marinade every few minutes for about 10 minutes or until cooked through.

If you enjoyed this Barbecue pork belly skewers recipe then browse more Filipino recipes, barbecue recipes, meat recipes, easy recipes, entertaining recipes, prepare ingredients in advance recipes, egg-free recipes and our most popular hainanese chicken rice recipe.
Filipino Restaurants
Displaying 2 of 2 Filipino Restaurants.
PLEASE NOTE: All submitted comments become the property of SBS. We reserve the right to edit and/or amend submitted comments. HTML tags other than paragraph, line break, bold or italics will be removed from your comment.
Featured Food & Recipes
Hot Tips
More
Sticking to the steamer
To avoid food sticking to the bamboo steamer either place a cabbage leaf (or similar) in the bamboo steamer (placing the dumplings on top). Alternatively cut a round of baking paper and cut holes into it (as you would make a paper snowflake).
Glossary
More
Snake beans
Also known as Chinese long beans, these dark green beans can be up to 1 metre in length and are usually sold in bunches. They do not need stringing prior to use and are mostly chopped and added to stir-fries.